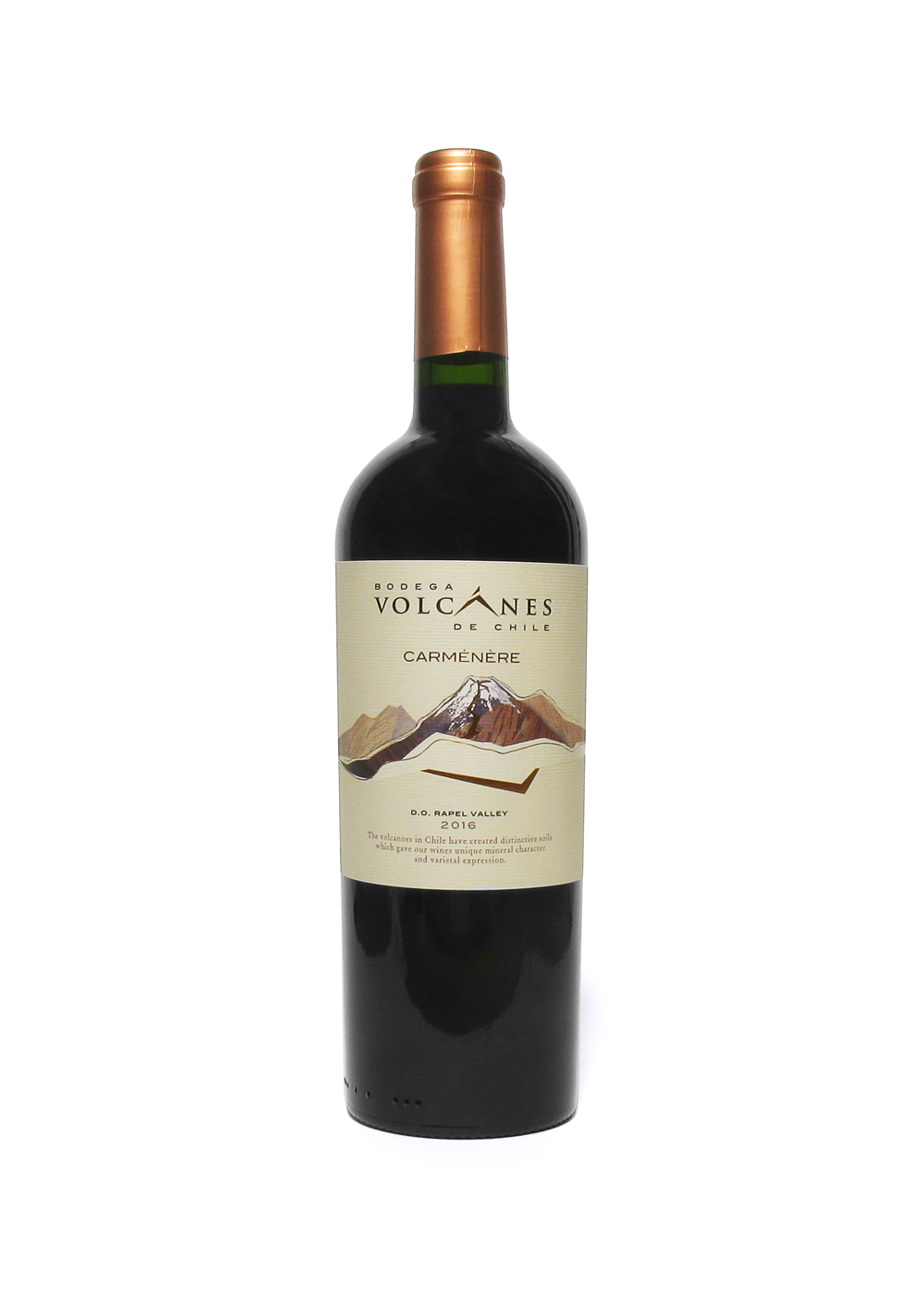 Carménère, Chile's Rapel Valley fine food red wine
Chile, Rapel Valley, Carménère, Bodegas Volcanes de Chile, D.O. Rapel Valley, Wine of Chile. 2016

Introduction
Bodegas Volcanes de Chile is the winery in the town of Talagante, ca. 30 km south-east of Santiago, itself in the Maipo region. Rapel is south from Santiago and wedged in between the wine regions of Maipo to the north and Curicó to the south. Rapel includes the wine regions of Cachapoal and Colchagua. The latter two names are more often found on labels than Rapel.

Volcanes is part of the Grupo Vinos de Pacifico (GVP), established in 2006 and which originates from 1885, Viña Unddurraga, bringing together the international brands from Talagante. 2006 Was also the year that Volcanes was started and in 2009 was joined by its current head wine maker María del Pilar, who came with a lot of wine experience over many years. The use of the volcanic soil for its wines has been the driving force, within the GVP estates. They have estates in various wine regions, such as Leyda, Maule, Maipo, Rapel and the Malleco Valley.

Review Date:
06 . 09 . 2019
Origin:
Chile, Rapel Valley
Wine specifics
Ready to drink and can keep still for a while. Smooth, balanced, full-bodied, smokey, fruity, hints of spice, olives. Serving red meats, chicken, grills, roasts, pasta, cheese. Grapes: 85% Carménère, 15% Cabernet Sauvignon. Label states: 'The volcanoes in Chile have created distinctive soils which give our wines unique mineral character and varietal expression'. Obtained in the UK. Cork.
Insights:
Rapel has the Pacific Ocean to the west and the Andes Mountains to the east, ideal conditions for wine growing. Carménère, Cabernet Sauvignon and Merlot are the main red varieties for Rapel. Rapel wines are often (blends) from the other areas than the two above or blends from them. Once this wine has been processed, 20 or so days after harvest, it is initially racked in French and American oak barrels for 8-9 months. This oak ageing is followed by the subtle blending of the Carménère. The Malleco Valley is the most southern part for wine growing in Chile, ca. 600 km south from Santiago.
Review Date:
06 . 09 . 2019