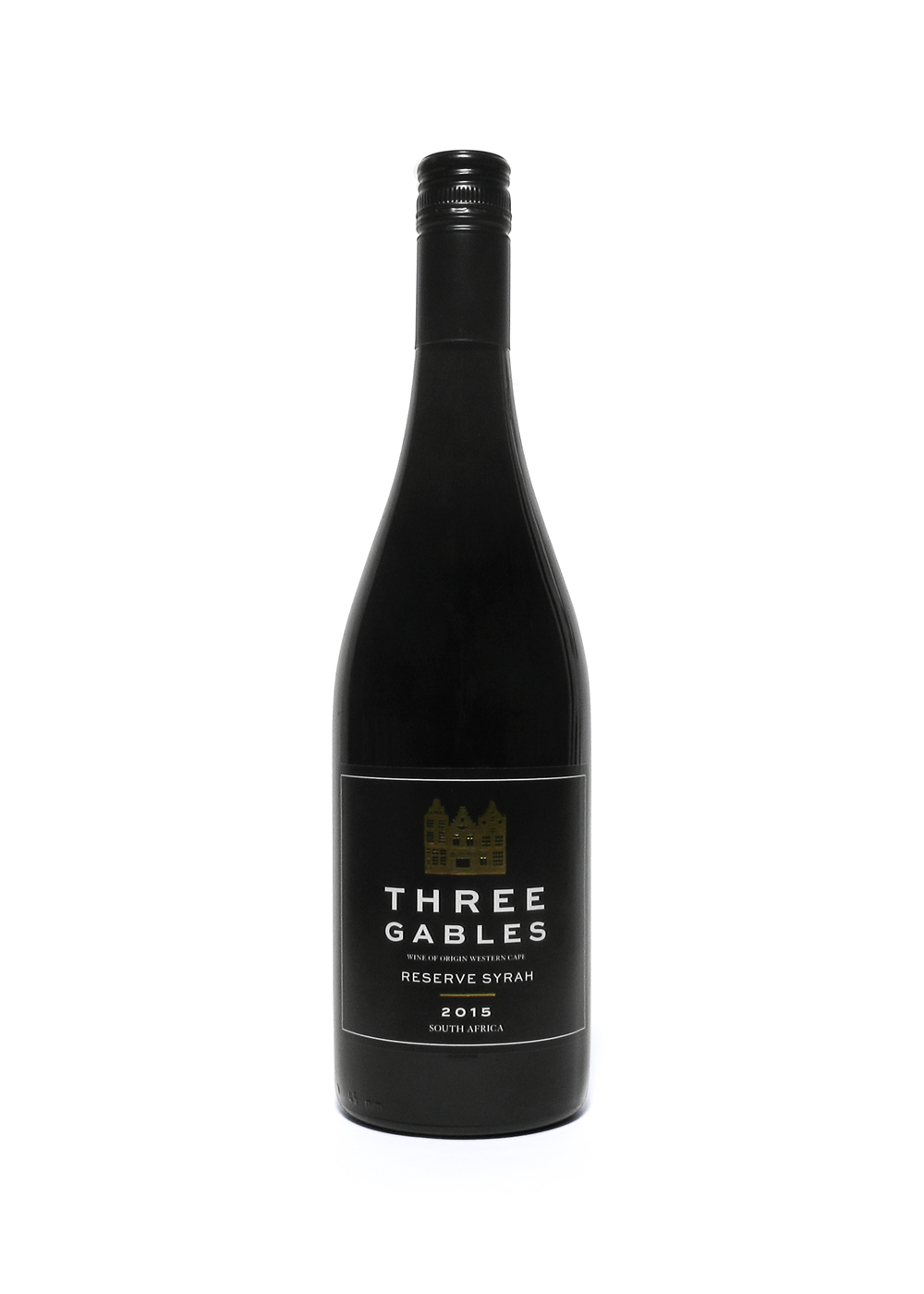 Wine of Origin Western Cape, South African smooth Reserve Syrah
South Africa, Western Cape, Three Gables, Reserve Syrah, W.O. Western Cape, 2015

Introduction
A shiraz branded under the 'Three Gables', from the Perdeberg wine region, within W.O. Western Cape, ca. 60 km north east from Cape Town. It is made by the experienced wine maker Ryan Puttick, nowadays linked to The Old Road Wine Company in Franschhoek as their winemaker. On the front label, the 3 golden gables on a black background have been made by the Dutch artist Joseph Segaran, based in Amsterdam.

Wine of Origin Western Cape, as a wine area, is the same as the province and holds most of South Africa's wine regions. In South Africa there is in the wine industry a strong and increasing belief for biodiversity and sustainability and it is seen as an important USP in their marketing. This wine is imported by The Wine Fusion, a London based independent production and agency wine house, representing a wide selection from around the world.

Review Date:
18 . 12 . 2019
Origin:
South Africa, Western Cape
Wine specifics
Ready to drink and can keep still for a little while. Balanced, mature, medium bodied, fruity, hints of pepper. Serving grills, roasts, all meats, cheeses. The supplier mentions it is from the Perdeberg area, the label states (only) W.O. Western Cape. Obtained in the UK. Screwtop.
Insights:
The W.O. was established in 1973 and is comparable to the French AOC system, but does not go as far as the French. The labelling is the main thing, but not on matters like trellising, yield and varieties. There are four wine categories; the four main Geographical Units (such as Western Cape) goes further down to Regions (such as Coastal region), down to Districts (such as Paarl), to Ward (such as Simonsberg-Paarl and Voor Paardeberg). The style of the gabled buildings, as on the front label, can be found throughout South Africa, going back to the time that the Dutch were well represented, leaving their mark in more ways than one. Joseph Segaran, www.josephsegaran.com

PS.
For your own wine tasting, see: https://thedutchman.org/files/2019/05/Dutchman-Wine-Tasting-2019.pdf

- weekly wine

- 'Hosting in Cumbria Your Wine Tastings' -

Review Date:
18 . 12 . 2019