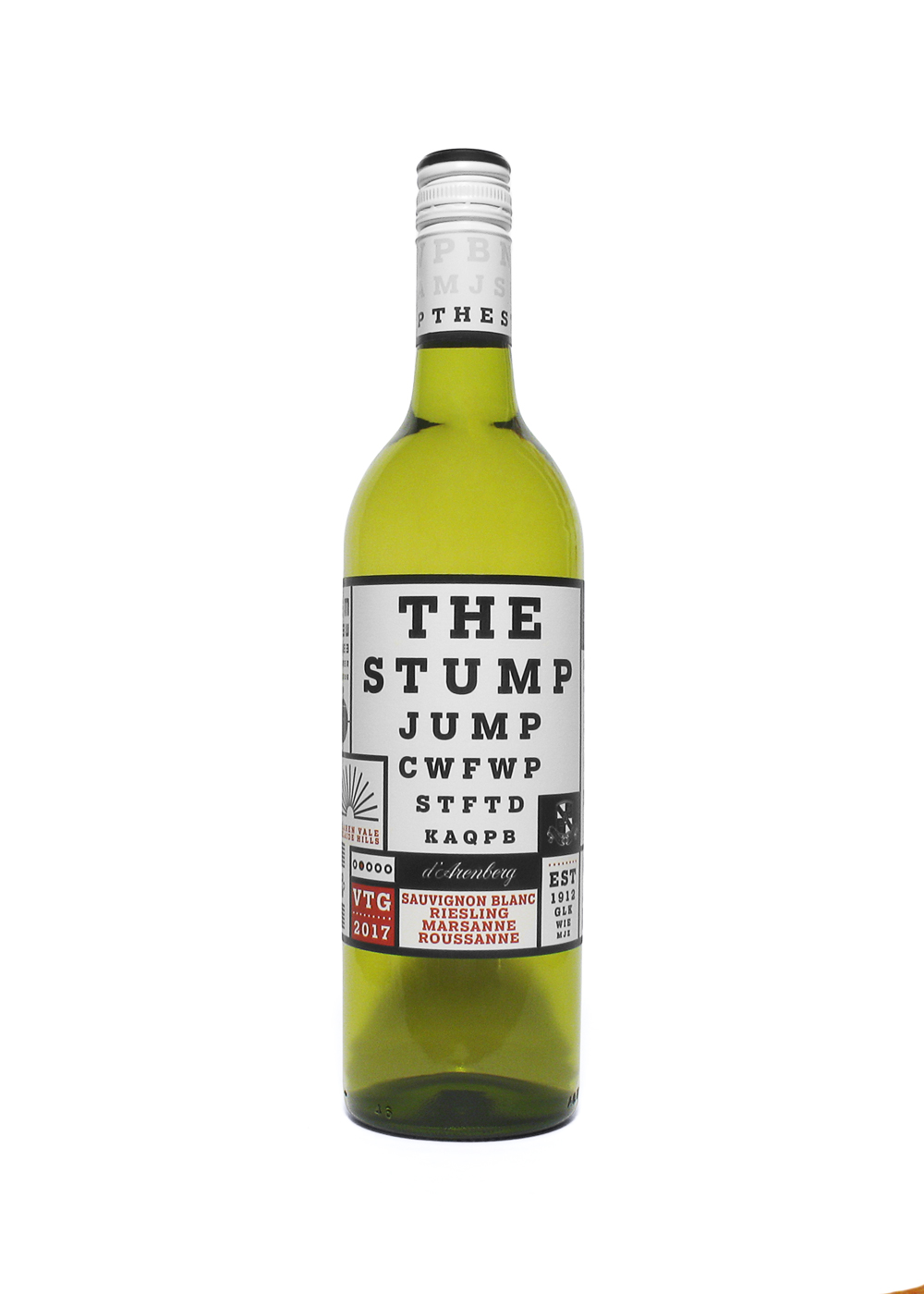 The Stump Jump
Sauvignon Blanc, Riesling, Marsanne, Rousanne
Australia's McLaren Vale – Adelaide Hills fresh white blend and combines it with doing the eye test
Australia, South Australia, McLaren Vale - Adelaide Hills, The Stump Jump, D'Arenberg, Sauvignon Blanc, Riesling, Marsanne, Rousanne, 2017

Introduction
The Stump Jump wine range is named after the plough, invented in 1876, which could plough the field avoiding the tree stumps and roots. South Australia's scrub land was challenging to develop for agricultural use and the invention of this plough became a game changer. The family-owned winery is d'Arenberg, in the McLaren Vale wine area, just north of the township of McLaren Vale, ca. 60km south from the town of Adelaide.

d'Arenberg was established in 1912 by the Osborn family, now in its fourth generation headed by Chester Osborn. All their vineyards are in McLaren Vale and they source wine from nearby Adelaide Hills as well, like for this white. Many of their award-winning wines are often recognised for their quirky names and with the 'red band' across the label. The winery makes part of the Australian Wine Alliance First Families of Wines, established in 2009. In its vineyard it has since 2017 the striking d'Arenberg Cube, a building tributing and contributing to anything wine.

Review Date:
28 . 05 . 2020
Origin:
Australia, South Australia, McLaren Vale - Adelaide Hills
Wine specifics
Ready to drink and can keep still for a little while. Fresh, crisp, (no oak) clean, balanced, fruity, hints of citrus, lemon, apple. Serving starters, fish dishes, spicy dishes, meats, grills, light cheeses. Grapes: 52% Sauvignon Blanc, 38% Riesling, 5% Marsanne, 5% Rousanne. The label states (anecdotal) that the inventor of the plough had poor eyesight and needed often eye tests to continue to operate the machinery. 'If you can hold this bottle at arm's length and still read the front label, you can enjoy another glass'. Obtained in the UK. Screwtop.
Insights:
McLaren Vale is mostly known for its plummy reds (often unfiltered, good for ageing, leaving some sediment) and white wines are in the minority. A lot of experimenting though with this. Adelaide Hills is more suitable for whites. More and more vineyards in McLaren Vale survive without irrigation water, which is increasingly in short supply, with doing waste water-recovery by some. There are around 80 wineries, but quite a lot of the harvest is going to other areas/producers using it to bulk out their (blended) wines. Harvest is from February to April. All d'Arenberg estate and leased vineyards are NASAA certified for organic and biodynamic processes, being one of the largest producers in Australia in this field. Weed growth in the vineyards is controlled with 200 sheep and adds manure to the vineyard in the process.

https://www.australiasfirstfamiliesofwine.com.au/

PS.
For your own wine tasting, see: https://thedutchman.org/files/2019/05/Dutchman-Wine-Tasting-2019.pdf

- weekly wine

- 'Hosting in Cumbria Your Wine Tastings' -

Review Date:
28 . 05 . 2020