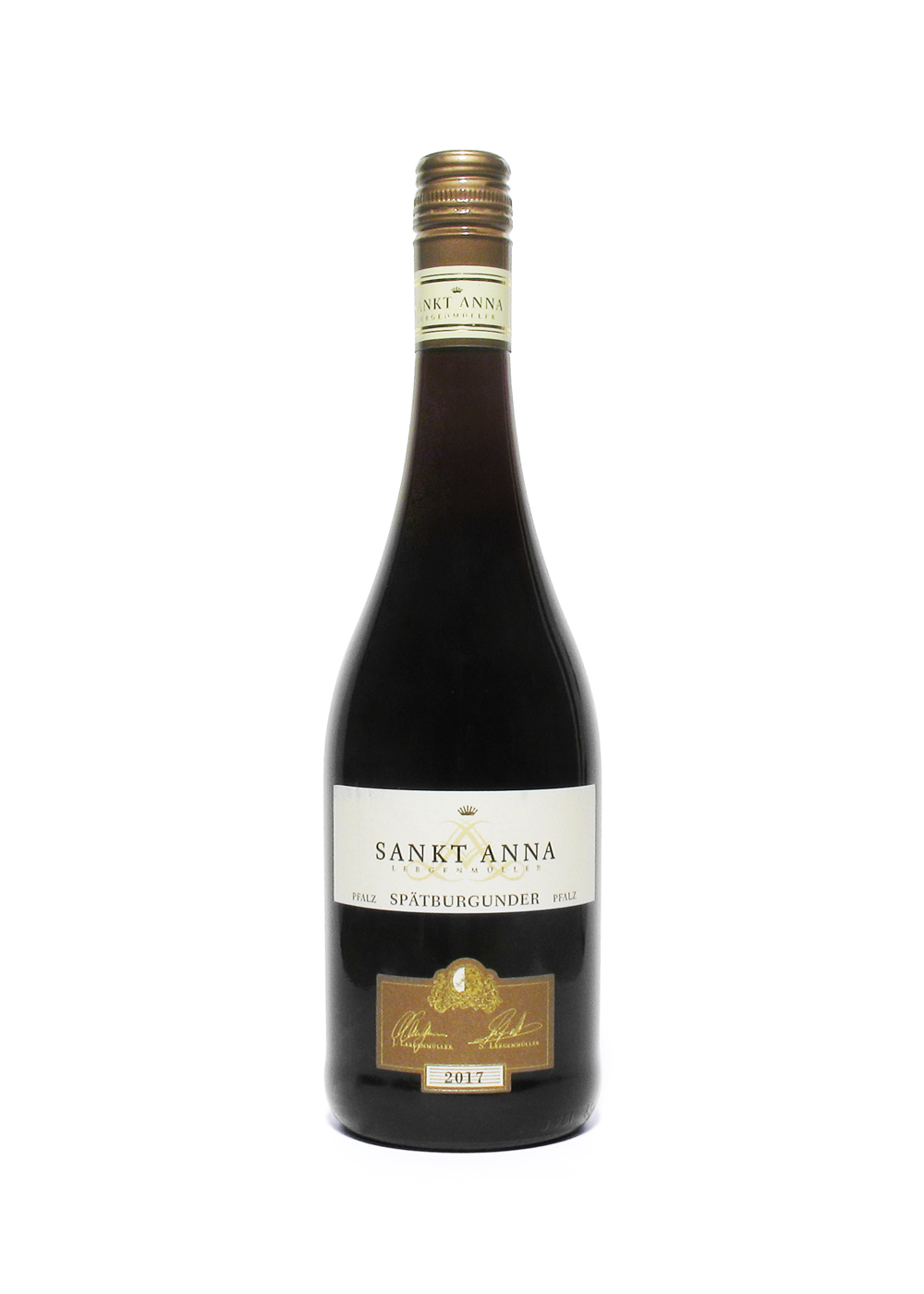 German's pinot noir version of a young red from the Pfalz wine region
Germany, Pfalz, Sankt Anna, Lergenmüller, Spätburgunder, Deutscher Qualitätswein, Trocken-Dry, 2017

Introduction
Spätburgunder is German's pinot noir, and in fact the world's third largest producer of pinot noir in volume. The Lergenmüller family are based in the villages of Hainfeld and Burrweiler, located centrally in the Pfalz region. They produce various 'internationally competitive' red wines, as well as ones comparable to the elegant Burgundy red wines. Over the years they have become a major wine producer in Germany, with quite a variety in their wine portfolio.

Weinhaus Anna M. Lergenmüller dates back to 1518, over 500 years and is now in their 15th generation of winemakers. The family makes a large selection of white and reds. This wines' name makes a reference to the nearby Sankt Anna Mountain, a name that also links up to the St. Anna chapel in Burrweiler. The slopes are ideal for wine growing and the mountain is the highest in the region. In Plafz the production of reds is on the increase and in total production second in Germany, after Rheinhessen.

Review Date:
17 . 04 . 2019
Origin:
Germany, Pfalz
Wine specifics
Ready to drink and can keep still for a while. Fruity, dry, soft, balanced, hints of vanilla, spice. Serving roasts, grills, bbq, cheese, on its own. Can be served quite cold or 'warmer'. On the front bottom label the wine is 'signed of' by the family 'elders', J. and S. Lergenmüller, Jürgen and Stefan. Obtained in The Netherlands, may (not) be available in the UK. Embossed screwtop.
Insights:
The Sankt Annaberg estate of 7 ha. in Burrweiler forms a small part of the company and is run by one of the daughters, Victoria. From a very early age she has run this winery in all its facets, as well as its own and popular restaurant Their well reviewed wines are represented through Weinhaus Lergenmüller. One can consider the Pfalz as an extension of the French Alsace, to the north of it, starting at the German border; ca. 20 km wide and 80 km long. The Rhine River is on its right and the Haardt mountains on the left. The Pflaz has also a Deutsche Weinstrasse, running south to north, similar to the Route du Vin d'Alsace. Both routes are understandably very popular among tourists. Qualitätswein – similar grading as the French AOC, in this case recognising the Pfalz region.
Review Date:
17 . 04 . 2019