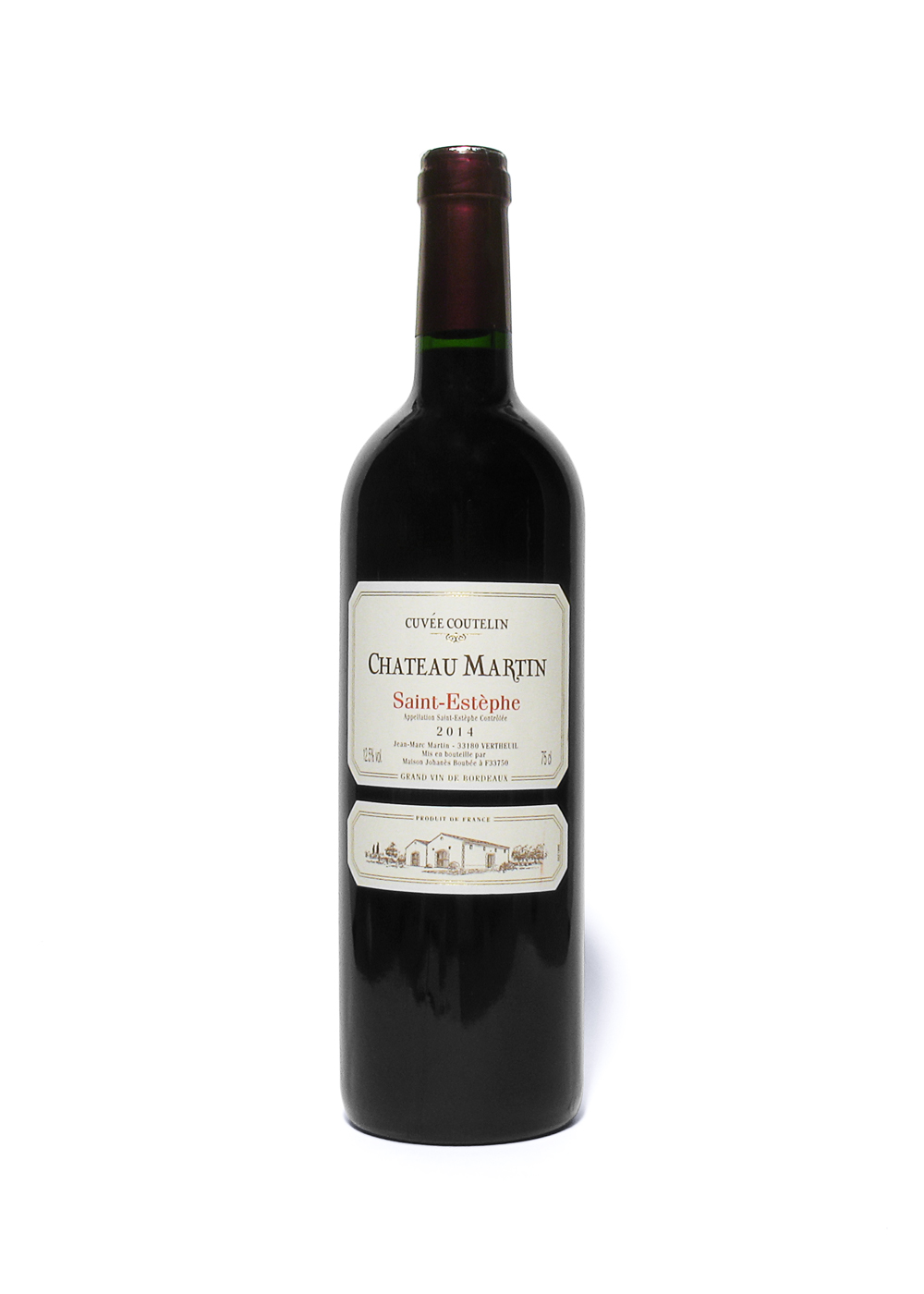 Saint-Estèphe
Cabernet Sauvignon, Merlot
Château Martin, left bank Bordeaux, sturdy and flavoursome
France, Bordeaux, Château Martin, Saint-Estèphe, AC, Cuvée Coutelin, Grand Vin de Bordeaux, 2014

Introduction
The wine region is among the four most famous communes of the Médoc, which includes a range of well known wine properties, such as Château Meyney and Château Cos d'Estournel. This area does have various classifications within its AOC and are well defined (unlike Pomerol – no. 162). This vineyard is near the village of Vertheuil, west Saint-Estèphe and belongs to Jean-Marc Martin, who has a variety of interests in the area.

Apart from producing a Saint-Estèphe under its own label, this version is bottled by Maison Johanès Boubée, linked to the Carrefour supermarket chain. The AOC recognition goes back to 1936, with wine growing dating back to Roman times. The wine region is named after the village with the same name, just on the left bank of the Gironde river-estuary.

Review Date:
16 . 08 . 2017
Origin:
France, Bordeaux, Saint-Estèphe
Wine specifics
To leave still for while, aging upto 10 years or so. Improves with age. Balanced, mature, smooth, flavours of fruit, spices. Serving red meat, lamb, game, roasts, grills, mature cheeses. Grapes Cabernet Sauvignon, Merlot. The little atmospheric drawing on the bottom label shows the production barns at the estate. Obtained in France, Saint-Estèphe may be available in the UK. Cork.
Insights:
Under the AOC various grapes can be used, in addition to the often usual Cabernet Sauvignon and Merlot: Cabernet Franc, Carménère, Côt and Petit Verdot. Each producer can do their own blends, adding to the individual characters of the Saint-Estèphe. However, e.g. the growing of the vines is heavily regulated though, in total 1230 hectares, producing just under 9 million bottles annually. As part of Médoc, it is the most northern communal appellation, with Pauillac as its southern neighbour, followed by St. Julien. The Cuvée Coutelin specifies a batch within the estate. (Côt = Malbec)
Review Date:
16 . 08 . 2017