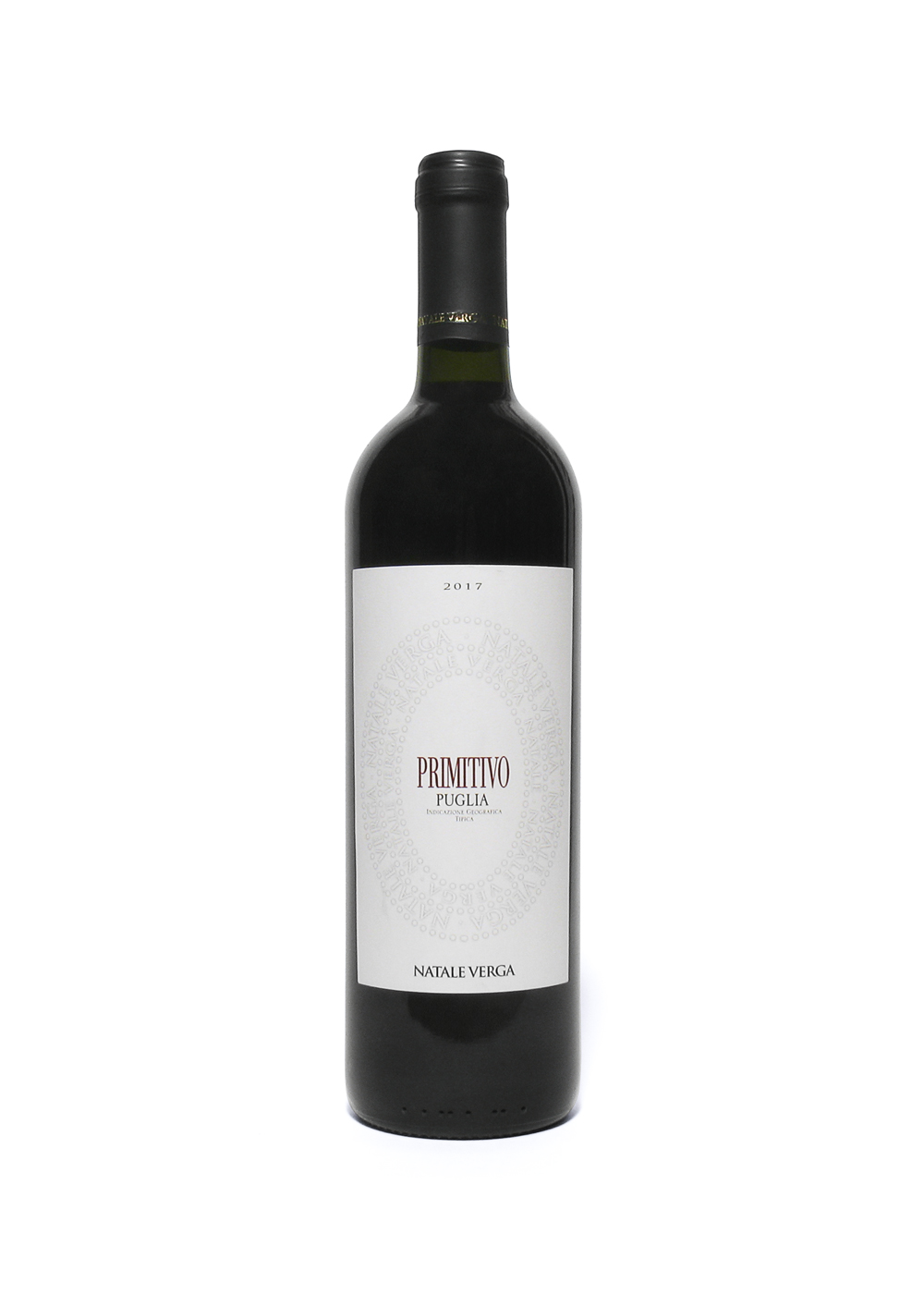 Primitivo Puglia
Primitivo
IGT smooth Primitivo from south Italy's Puglia region by Natale Verga
Italy, Puglia, Natale Verga, Primitivo, IGT, 2017

Introduction
The wine's origin is in the south-eastern 'heel', from the regions of Brindisi and Taranto, but the winery itself is based just 30 km north of Milan. Natale Verga is based in the town of Cermenate, a major producer with 35% of its wines exported to over 30 countries. Casa Vinicola Natale Verga dates back to 1895, starting with Enrico Verga and the family owned company is now coming into its fifth generation.

The award winning winery produces a large selection of its own brands, as well as under private label. Still with its traditions strongly in mind, the wine operation is all taking place in a purpose build and modern unit since 2013, e.g. with a bottling capacity of 25000 bottles per hour. Natale Verga is currently the director and is still working close with his father Giancarlo, as well as the rest of the family.

Review Date:
27 . 03 . 2020
Origin:
Italy, Puglia
Wine specifics
Ready to drink and can keep still for a while. Smooth, medium-bodied, fruity, hints of spice. As a wine comparable to the Zinfandel from the USA-California. Serving pasta, meaty dishes, grills, roast, cheeses. Simple label, Natale Verga's name in an oval, with the grape and region in the middle. Obtained in the UK. Cork.
Insights:
The winery covers many Italian wines from the north to the south, such as Barolo, Bardolino, Veneto, Montepulciano, Chianti, Puglia and Sicily with the Nero D'Avola. Their winery is based in the north central region of Lombardy, more known for its sparkling wines. Many of the Puglia wines, i.e southern Italy, go north in bulk to the major producers, often blended within the IGT classifications. This wine is an example of that, even though more and more wine growers market now their own wines. IGT – Indicazione Geografica Tipica; classification guaranteeing the origins of the wines, in this case within the whole of the Puglia region. This is a category below the DOC ones.

PS.
For your own wine tasting, see: https://thedutchman.org/files/2019/05/Dutchman-Wine-Tasting-2019.pdf

- weekly wine

- 'Hosting in Cumbria Your Wine Tastings' -

Review Date:
27 . 03 . 2020