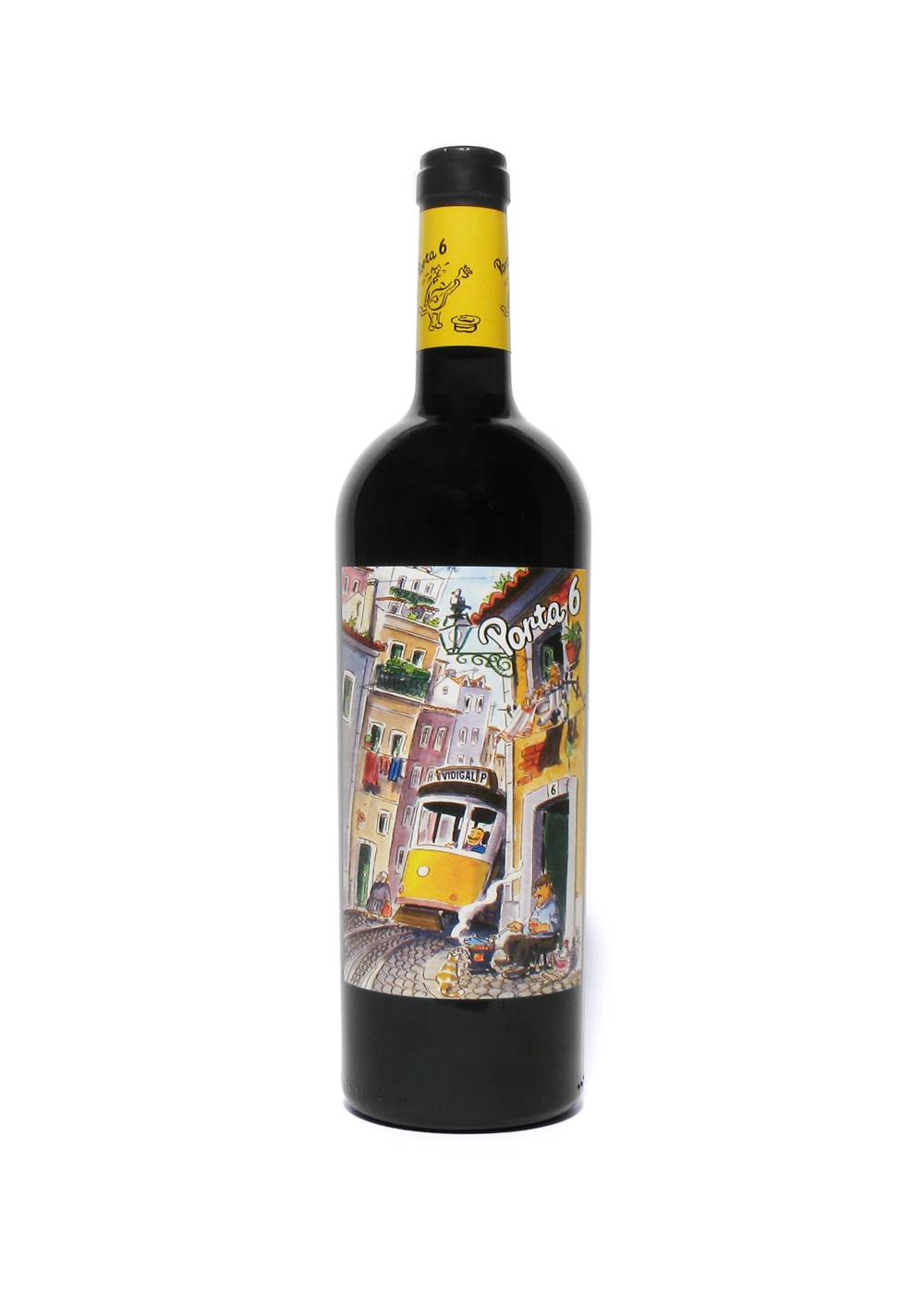 Porta 6
Aragonês, Castelão, Touriga Nacional
Lovely Vinho Regional Lisboa, with an atmospheric label of Lisbon
Portugal, Lisboa, Porta 6, Vinho Tinto, Vinho Regional Lisboa, 2015

Introduction
Behind this popular blend is Vidigal Wines, who have been around for over a century and are based in Cortes, nr. the town of Leiria, 120 kilometres north from the capital Lisbon. VR Lisboa is one of Portugal's most productive Portuguese wine regions, nicely situated along the Atlantic coast, north from the capital. The label is an original painting by the German painter Hauke Vagt, which sums up Lisbon quite well.

Vidigal is run by the largest share holder and Managing Director, António Mendez Lopes, who has over 30 years of experience in the wine world and originally started with a wine importing company in Denmark. Most of their wines are exported, making them one of Portuguese's largest exporting wine companies and they also represent wine regions such as Tagus, Douro, Dâo, Alantejo, Vinho Verdo and Beiras.

Review Date:
21 . 09 . 2018
Origin:
Portugal, Lisboa
Wine specifics
Ready to drink and can still be stored for a while. Berry fruity, balanced, smooth, soft, fresh, hints of nuts, spice. Serving roasts, all meat dishes, pasta, stronger-harder (blue) cheeses, on its own. Obtained in the UK, popular brand/wine. Grapes: 50% Aragonês, 40% Castelão, 10% Touriga Nacional. Cork. On the bottle the lovely label is further supported by the busking cat on the seal and the back label. On the back of the bottle the numbered guarantee seal of CVR Lisboa.
Insights:
There is a Porta 6 range of wines. Blending of grapes is very common in Portugal, producing very often great reds. They make the best of their unique indigenous vines, such as Touriga Nacional, Sousão, Fernão Pires and many others, even though the merlots and shiraz's are finding slowly their way. Within the CVR Lisboa there are some smaller regions that could have their own (more regulated) DOC's, such as Torres Vedras, Arruda, Alenquer and more, but they tend to market their wines under the (less specific, more popular) CVR Lisboa name. CVR = wines produced in a specific region from at least 85% of locally grown grapes.
Review Date:
21 . 09 . 2018