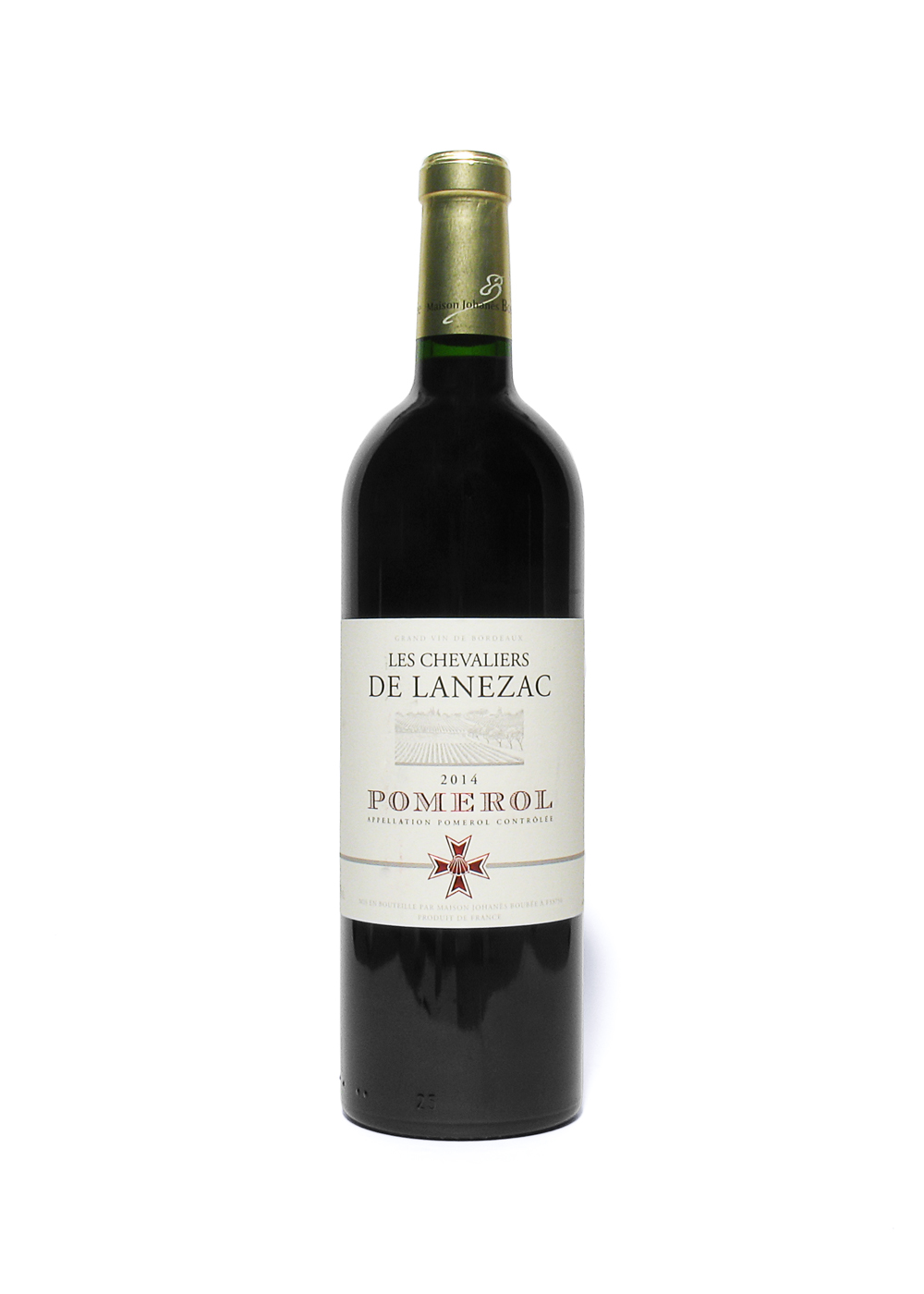 Pomerol
Merlot, Cabernet France
The smallest Bordeaux region, with mighty wines
France, Bordeaux, Pomerol, AOC, Grand Vin de Bordeaux, 2014

Introduction
An AOC area on the 'Right Bank', 3 km by 4 km and with 150+ winegrowers, as if every family has its own plot. Mostly small vineyards and small productions, with high standards. The dominant grape is Merlot (can be 80% or more) and is usually blended with Cabernet Franc and sometimes a bit of Cabernet Sauvignon or Malbec. Other than its AOC, there is no further classification, partially a result of its fairly recent fame (and where to start?).

There are no cooperatives and the wine is mostly estate bottled, often around 1000 cases per year. In this case, Les Chevaliers de Lanezac is bottled by Maison Johanès Bourbée, in Beychac-et-Caillau, half way between the towns of Libourne and Bordeaux and is linked since 1999 to supermarket chain Carrefour. They also bottle e.g. a Lussac-St.Émilion. There is no white wine production in Pomerol. Pomerol is nestled between St. Emillion and Lalande-de-Pomerol, just east of Libourne.

Review Date:
27 . 07 . 2017
Origin:
France, Bordeaux, Pomerol
Wine specifics
Not yet ready to drink, from approx. 5 years, keep 5 – 10 years. Soft, smooth, rich, medium-bodied, hints of fruit flavours-plum, spices. Serving all types of red meat, game, roasts, grills, strong-blue cheeses. Obtained in France, may be available in the UK. Cork.
Insights:
The most well known Pomerol wine is Pétrus, with others such as Château Lafleur, Château Hosanna and Le Pin, all within 'walking distance'. The prices of these wines can outdo other renowned Bordeaux wines. Pétrus is since 2010 100% Merlot. Wine making in Pomerol has been around since the 1700's, even though first signs go back even earlier to the 1300's, which would be comparable to the St. Émilion region. Originally also with white wines, but they disappeared eventually by the mid 1800's.
Review Date:
27 . 07 . 2017