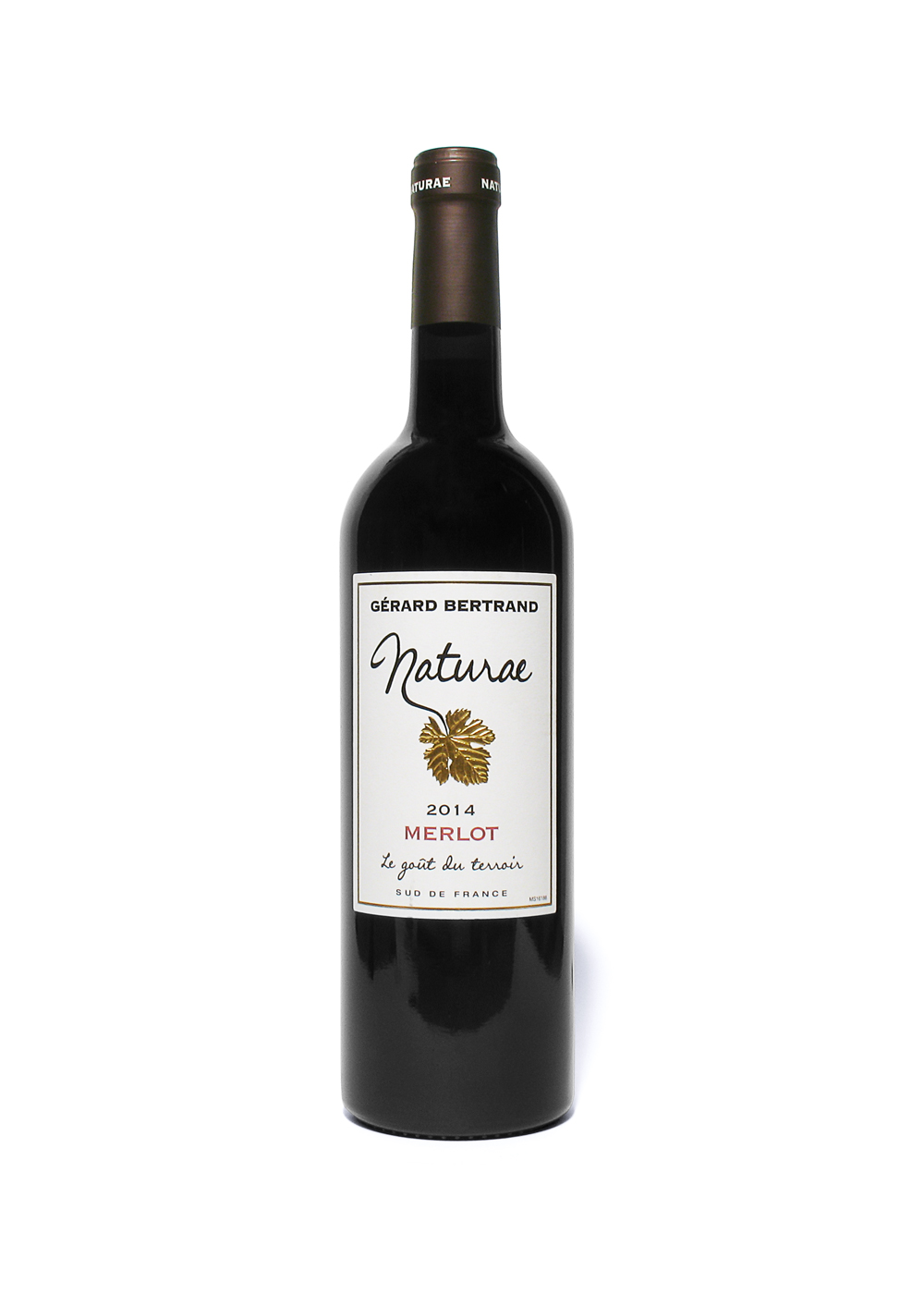 No added sulphites or other additives, Pays d'Oc grapes, very natural
France, Pays d'Oc, Naturae, Gérard Bertrand, Merlot, IGP, 2014

Introduction
Gérard Bertrand, with his attractive slogan 'L'art de vivre les vins du Sud', makes this Merlot wine. Using sustainable methods to grow the grapes contributes further to be awarded Terra Vitis. The entire process, from the vine to the bottle is certified every year to be able to use the Terra Vitis brand on the bottle. It commits to a wide range of criteria to conserve the vineyards, nature and so on. There is a range of Naturae reds, whites and rosé's.

The activities of the Gerard Bertrand wine company are overseen from his Château l'Hospitalet since 2002, 10 miles east from Narbonne. He had his first professional involvement in 1987, grown into the wine making industry from a very young age. The company has acquired various estates over the years in the Languedoc region. It is a diverse company, wide selection of wines, exporting to 70 countries, with the organic-bio dynamic being a part of their offering and their modern operation now in La Clape, Narbonne.

Review Date:
11 . 12 . 2016
Origin:
France, Pays d'Oc
Wine specifics
Ready to drink and can keep for a little while. Smooth, balanced, fruity, hints of cinnamon. Serving red meats, game, mature cheese. Obtained in the Netherlands, may be available in the UK. Cork. The label states: 'Le goût du terroir'; and: 'To keep this wine in the best possible conditions, we use a dark glass bottle to limit the effects of light. To enjoy this wine to the full we advise you to open the bottle within 3 years after the vintage. It might become slightly cloudy due to the absence of additives. This has no affect on its quality of taste.'
Insights:
Château l'Hospitalet is set up for wine making, as well as for wine tourism, to experience 'L'art de vivre les vins du Sud', with a restaurant, rooms, meeting facilities and more. IGP, Indication Géographique Protegé, is a wine category between Vin de Table and Appellations Contrôlé, narrowing it down to the region, unlike the Vin de France wines. You find IGP quite often for the Languedoc region. However, do not judge this as a 'bad' wine, because it may surprise you (and very often it does).
Review Date:
11 . 12 . 2016