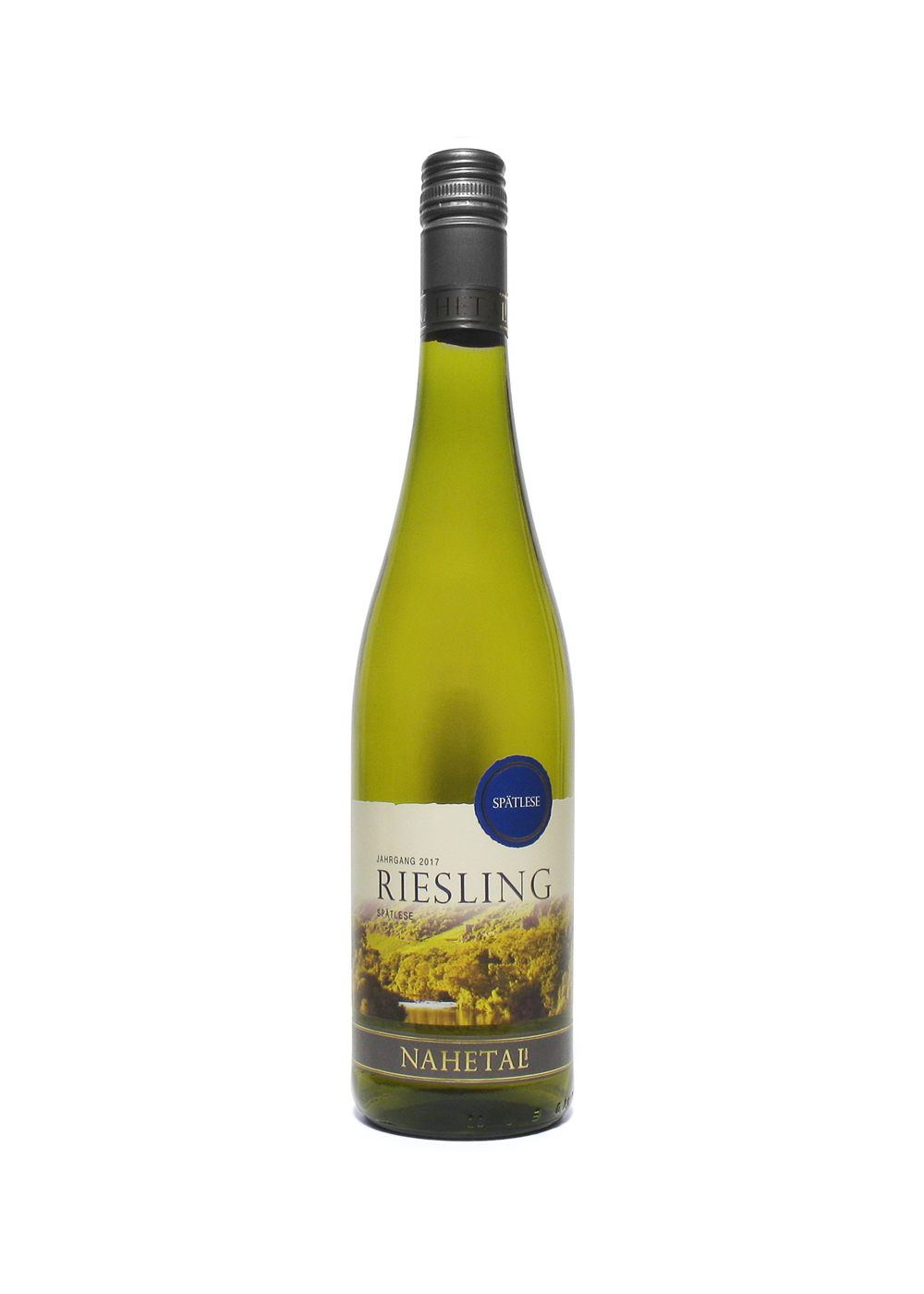 Fresh German Riesling as you would expect from the region around the Nahe river

Germany, Nahe, Riesling, Nahetal GMBH, Prädikatswein, Spätlese, 2017

Introduction
A Riesling prädikatswein, spätlese, made by Weinvertrieb Nahetal, based in Langenlonsheim, in the Nahe wine region, just north from the regions wine town of Bad Kreuznach and 40 km west from the town of Mainz. The Nahe river joins at Bingen the Rhine as do e.g. the Mosel and Ahr further north. The vineyards are scattered around in the Nahe region, with a tendency to make sweet wines, with dry ones becoming more popular to make.

Weinvertrieb Nahetal in Langenlonsheim is one of many producers and among the largest within Nahe, making a selection of red, rosé and white wines. Since 2000, through various mergers, they work with other regional cooperatives, sharing expertise and representing together other wine regions within the 'province/district' of Rheinland-Pfalz; a great diversity of wines from Mosel, Nahe, Rheinhessen and Pfalz. Even though the Nahe wine region has produced wines for a long time, it was only recognised as a wine region in 1971 under the German Wine Law. Before that they were just 'Rhine wines'.

Review Date:
31 . 05 . 2019
Origin:
Germany, Nahe
Wine specifics
Ready to drink and can keep still for a while. Minerally, sweet, light, fresh, fruity, hints of citrus, caramel. Serving spicy food, sweet desserts, cakes, on its own. Obtained in the Netherlands and similar may be available in the UK. Screwtop.
Insights:
Nahe region produces approx. 75% white and 25% is Riesling as the most common grape variety. Others are e.g. Scheurebe, Silvaner and Pinot Blanc. For the reds e.g. Spätburgunder (Pinot Noir) and Dornfelder. Prädikatswein – General grading title of German wines made from the ripest grapes, made under its regulation and then classified further into ripeness. The 'least' ripe is Kabinett, followed by Spätlese and so on (staying sweet, increasingly). Spätlese – 'late harvest', stands for dry to sweet wines and can keep for a number of years.
(Kabinett > Spätlese > Auslese > Beerenauslese > Eiswein > Trockenbeerenauslese)

Review Date:
31 . 05 . 2019