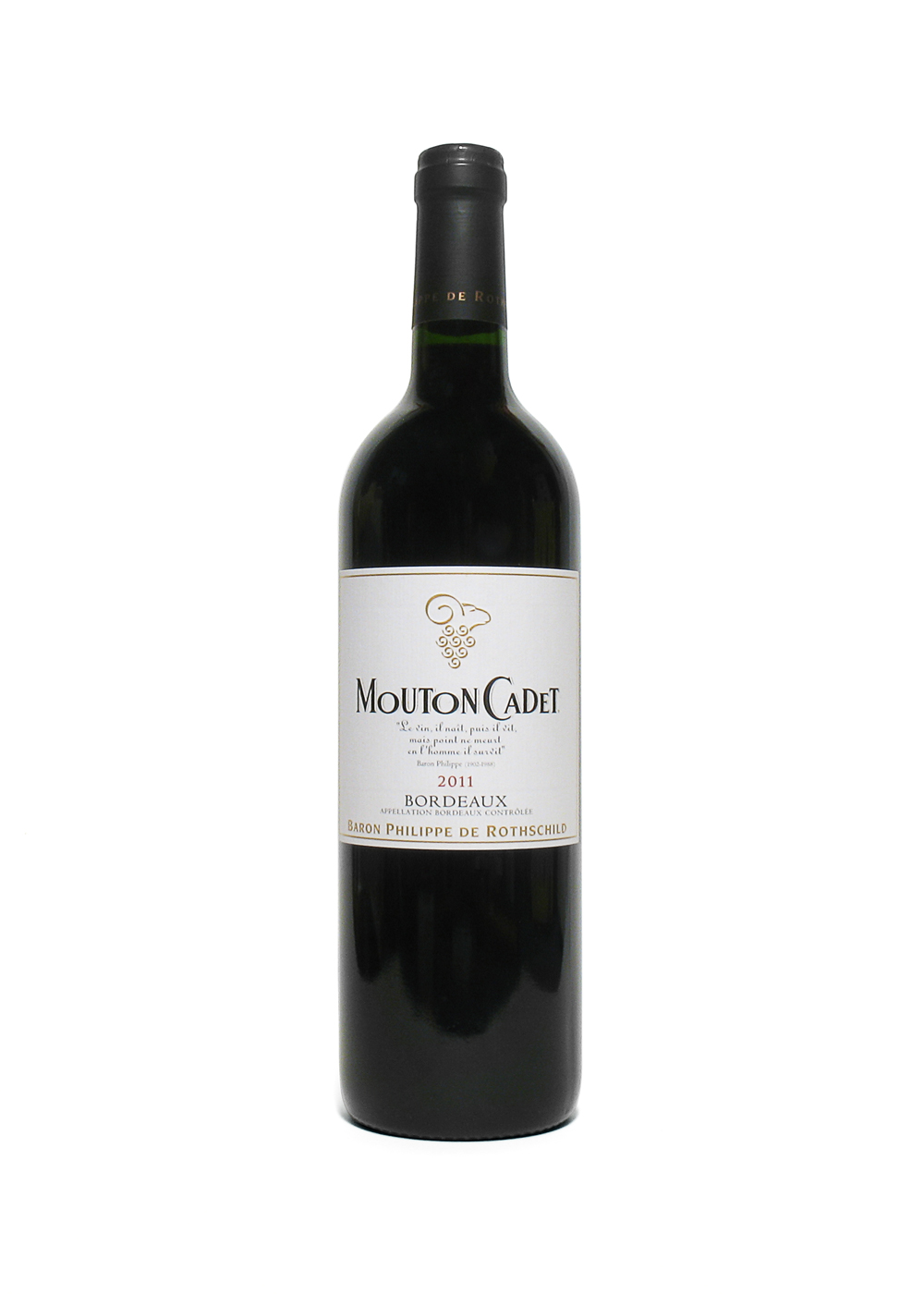 Mouton Cadet
Merlot, Cabernet Sauvignon, Cabernet Franc
On wines, one of the best known brands
France, Bordeaux, Mouton Cadet, Baron Philippe de Rothschild, AC, 2011

Introduction
Created by Baron Philippe de Rothschild in Pauillac and is a blend of Bordeaux appellation grapes. In 1930-32 the harvests for Château Mouton-Rothschild were disappointing and not right and 'used' them up for Mouton Cadet, 'a little brother'. Cadet stands for Philippe, youngest son in the family. The wine was a success and a white followed a little later.

After this and to be able to continue it, wines were sourced from vineyards in Bordeaux, initially in Pauillac (and labelled as such) and later from further afield, such as Saint-Estèphe and Haut-Médoc. The labelling became a Bordeaux AOC in 1947, not having been producing during the war years. The popularity shot up in the early days and just over 10 years ago a rebranding and reblending took place, due to slumping sales figures. At its peak it sold around 15 million bottles a year worldwide.

Review Date:
16 . 04 . 2015
Origin:
France, Bordeaux
Wine specifics
Can be drunk now or keep for a while (drank some 2018, good). Balanced, smooth, good body, red berry fruity, hints of strawberry and menthol. Serving red meat, poultry, spicy foods, cheese. Obtained in the UK, usually available in the UK. Cork. The red is matured for 6-10 months.

Insights:
There is now a rosé wine under the Mouton Cadet flag and under the Réserve Mouton Cadet label; Réserve Mouton Cadet Médoc, - Saint-Émilion, - Graves Rouge, - Graves Blanc and - Sauternes. Château Mouton-Rothschild is based in Pauillac, approx. 50 km north-west from the town of Bordeaux and got its name in 1853 from Nathaniel de Rothschild and was formerly known as Château Brane-Mouton. They were the first to bottle on-site in the 1920's. Baron Philippe de Rothschild died in 1988, aged 85 and the company is now headed by his daughter Philippine.

Review Date:
16 . 04 . 2015