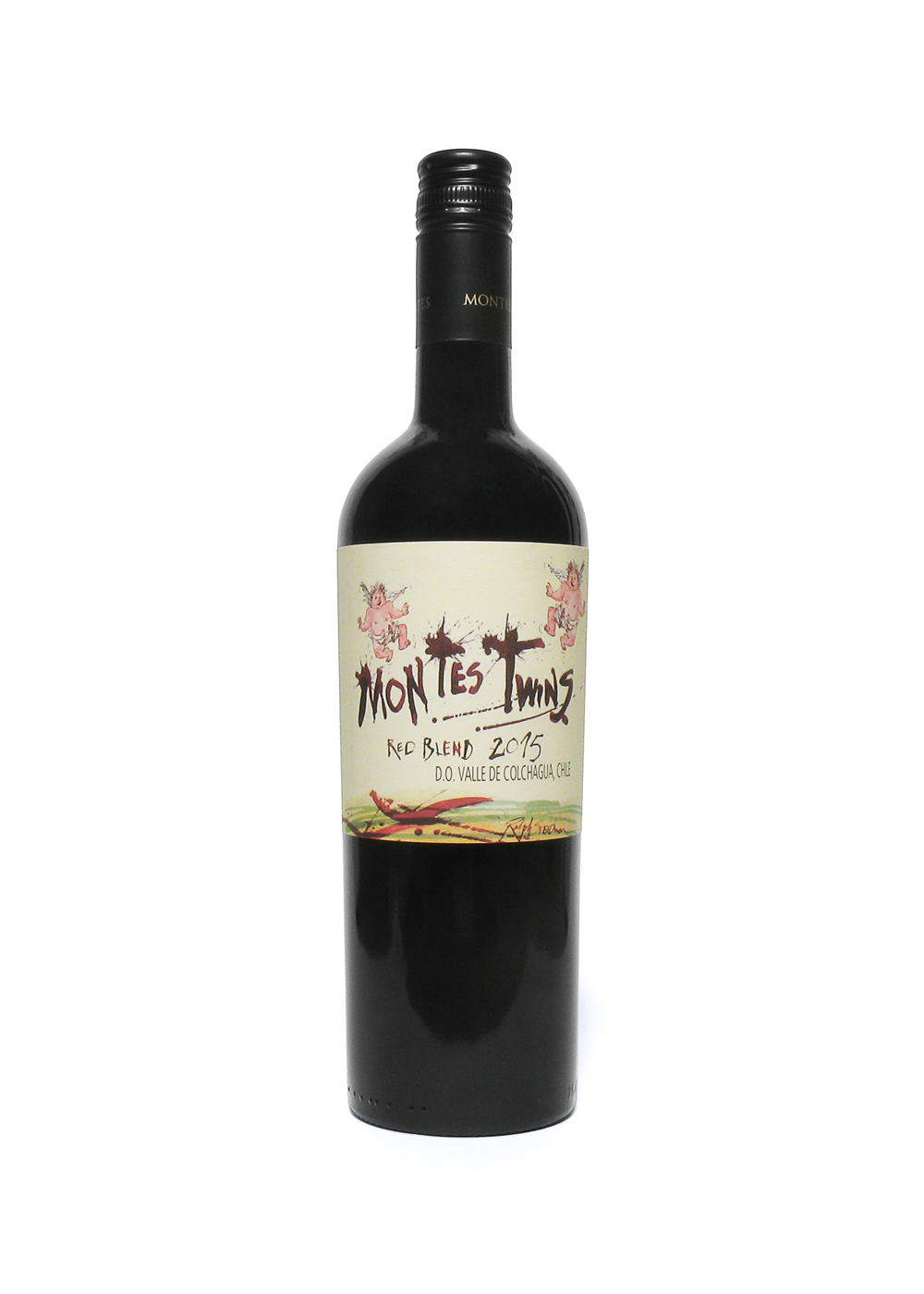 Montes Twins
Cabernet Sauvignon, Syrah, Carmenère, Tempranillo
An annual blend of two blended wines, the successful Montes family challenge
Chile, Valle de Colchagua, Montes, Montes Twins, Red Blend, D.O., 2015

Introduction
Aurelio Montes Sr. and son Aurelio decided to make a wine together, a unique one. As they could not agree on the results, they made each their own and these two were blended. It worked. Every year they blend their four most successful varieties. Montes Sr. and wine marketeer Douglas Murray started in 1987 the process of creating (better) wines and a brand that represented Chile the best they could. Together with a few more partners, in 1988 Viña Montes was 'live'. Based in Santa Cruz, Apalta.

It went from a boutique production of a mere 3500 cases and being named crazy for all their unusual projects, incl. dry farming, to hundreds of thousand cases in a few years. Now they export to over 100 countries, particularly under the brands of Montes and Montes Alpha. They are among the largest producers of Chile and for many a benchmark in wine making. The latest experimental project started in 2017 with vines in the Chiloé Archipelago, on the small island of Mechuque, 1200 km south of Santiago.

Review Date:
17 . 01 . 2020
Origin:
Chile, Valle de Colchagua
Ready to drink and is said to keep longer than 6 years. Smooth, balanced, fruity, hints of sweet spices, chocolate. Serving red meats, grills, roasts, pasta, cheese, on its own. Grapes: Cabernet Sauvignon 35%, Syrah 30%, Carmenère 25%, Tempranillo 10%. This label and its angels is also from Ralph Steadman, an unconventional artist and who has done labels for Montes before. Obtained in the UK. Screwtop.
Insights:
Wine specifics
Ready to drink and is said to keep longer than 6 years. Smooth, balanced, fruity, hints of sweet spices, chocolate. Serving red meats, grills, roasts, pasta, cheese, on its own. Grapes: Cabernet Sauvignon 35%, Syrah 30%, Carmenère 25%, Tempranillo 10%. This label and its angels is also from Ralph Steadman, an unconventional artist and who has done labels for Montes before. Obtained in the UK. Screwtop. Served 16-18 and 14.0%.

The blend for the Montes Twins is from the Colchagua sub-region terroirs of Apalta and Marchigüe. The Chiloé project latitude is on a similar level with Japan, Tasmania and South Island New Zealand. The other 2 partners in 1988 were, Alfredo Vidaurre on finance and Pedro Grand on wine technology. The wine areas Montes takes their grapes are from Colchagua, (coastal) Aconcagua, (Chile's oldest wine region) Maule and (further south) Itata. It has also an Argentinean sister brand, Mendoza region, since 2001, named Kaikén Wines.

PS.
For your own wine tasting, see: https://thedutchman.org/files/2019/05/Dutchman-Wine-Tasting-2019.pdf

- weekly wine

- 'Hosting in Cumbria Your Wine Tastings' -

Review Date:
17 . 01 . 2020