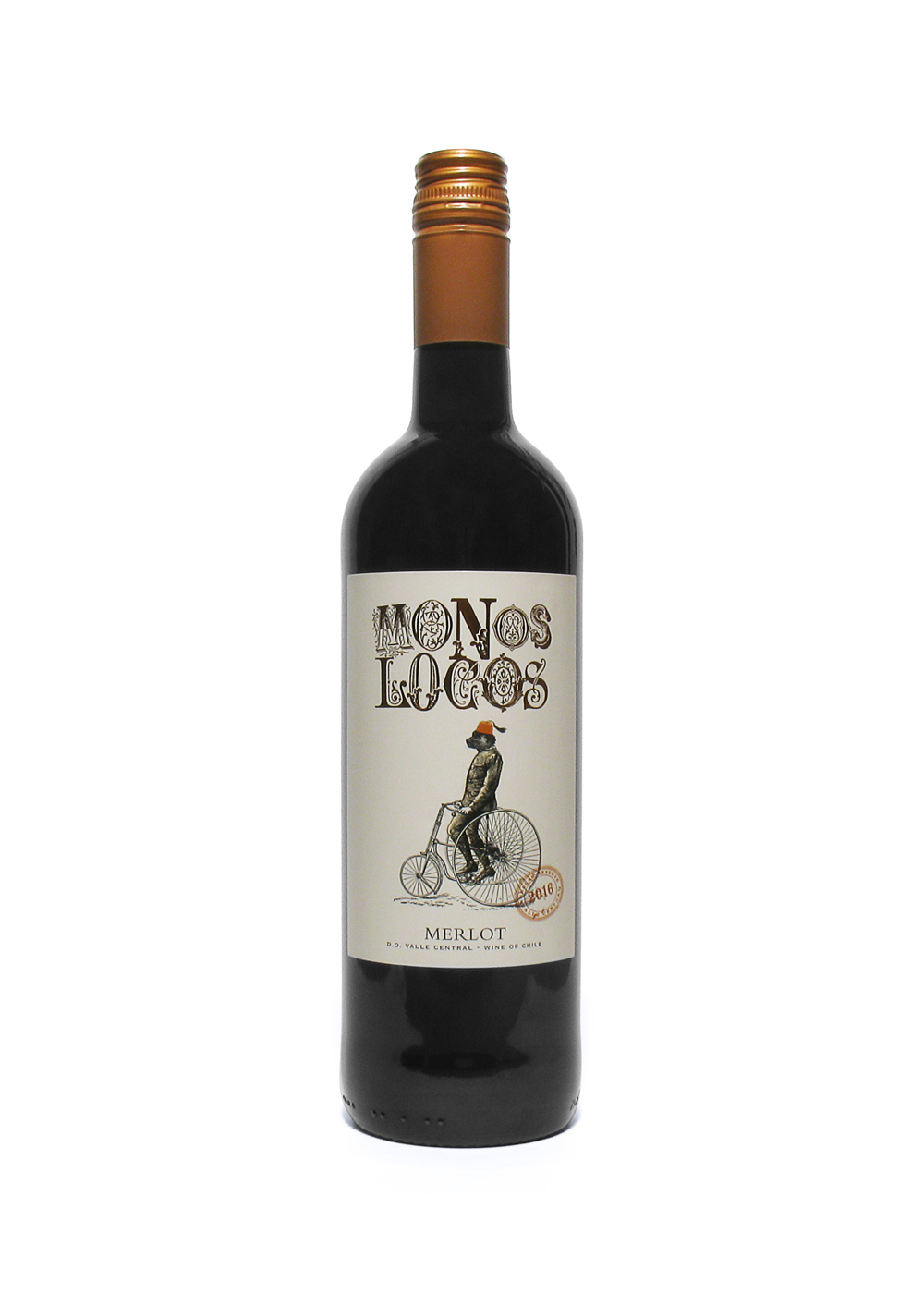 Chilean's Valle Central plump Merlot, which thrives in Chile
Chile, Valle Central, Monos Locos, Cellar Reserve, Merlot, DO Valle Central, 2016

Introduction
Monos Locos stands for a selection of Chilean red and white wines imported and marketed by Virgin Wines. Monos Locos stands for Crazy Monkeys, on the label these days smartly dressed and with a fez on a vintage tricycle. Over the years the wines have been linked to a number of guest wine makers, such as Oscar Salas Steinlen and Brett Jackson. The latter is the wine maker for this year's merlot.

Steinlen has been involved with various Chilean wine producers, whilst Brett Jackson is linked to the renowned family-owned Valdivieso winery as their chief winemaker in the town of Lontué, in the wine region of Curicó. By birth from New Zealand and now for over 20 years involved in Chilean wine making. D.O. Valle Central, just south from Santiago, covers the wine (sub) regions of Maipo, Rapel, Maule and Curicó.

Review Date:
07 . 06 . 2020
Origin:
Chile, Valle Central
Wine specifics
Ready to drink and keep still for a while. Balanced, full, plump, smooth, fruity, hints of plum. Serving with meats, grills, roasts, cheeses, on its own. Obtained in the UK. The current label has now been around for a number of years. Screwtop.
Insights:
Another host wine maker has been Orlando Jacque (Cabernet Sauvignon) from Viña Las Mercedes in Maipo. Rapel itself is split up again in two sub-regions, Cachapoal and Colchagua. Many, if not all of the main Chilean wineries are represented in this valley. Examples of well known wineries in the valley are Santa Rita, Concha Y Toro, Valdivieso, Anakena and Montes, even though the list goes on and on. The valley can be considered the starting point of wine making in Chile and other areas in Chile developed from there. Ideally situated between the Pacific Ocean and The Andes.

PS.
For your own wine tasting, see: https://thedutchman.org/files/2019/05/Dutchman-Wine-Tasting-2019.pdf

- weekly wine

- 'Hosting in Cumbria Your Wine Tastings' -

Review Date:
07 . 06 . 2020