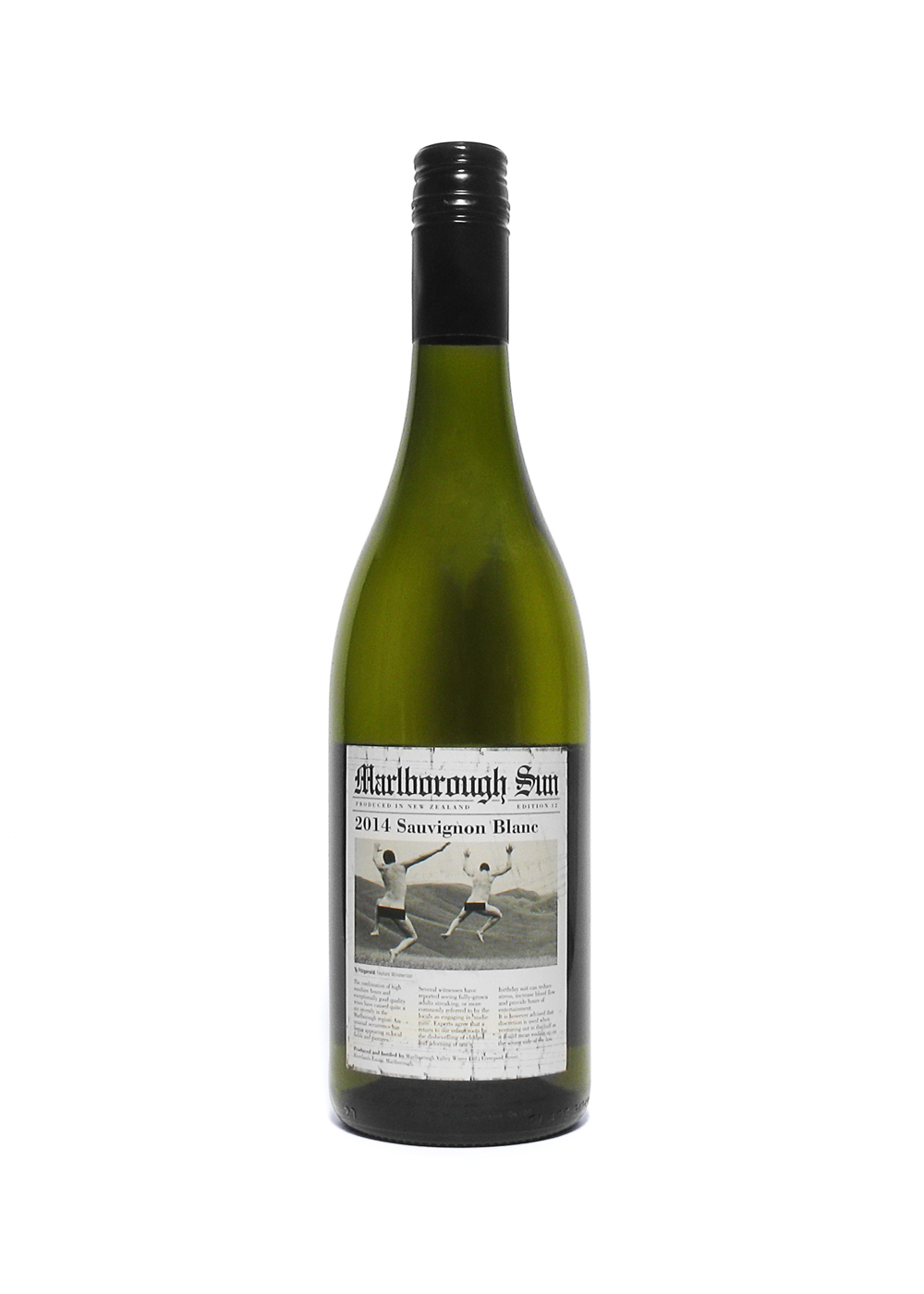 Marlborough Sun
Sauvignon Blanc
With some of the highest levels of sun, combined with cool nights, Sauvignon Blanc from Blenheim!
New Zealand, Marlborough, Marlborough Sun, Sauvignon Blanc, 2014

Introduction
The label shows what happens over there when the sun is out, apparently with visitors from around the world. It is obviously front page news, even though slightly censored, 'in local fields and pastures' and 'nudie runs'. All this, whilst enjoying Marlbourough's wine, according to the text on the label.

Marlborough, on the north tip of South Island, is historically mostly known for its Sauvignon Blanc and this one is linked to the Saint Clair Family Estate, nr. Blenheim. Approx. 60% of the countries vineyards are in this area, going back to 1870's and who only came into their own around 1980, now producing major brands, Cloudy Bay being one of them.

Review Date:
05 . 08 . 2015
Origin:
New Zealand, Marlborough
Wine specifics
Ready to drink and can keep for a little while, recommended upto 2 years. Fresh, crisp wine, fruity flavours and hints of honey suckle. Serving; on its own, with fresh seafood, pasta or white meats. Attractive, unusual label, as if a newspaper. 'Clothing usually reappears for the chilly moon lit nights', according to the label. Wine obtained in the UK.
Insights:
The estate was one of the first settlers in Blenheim and over the years the estate name stayed. It has been run by the same family since 1978, producing a wide selection of award winning wines. The next generation is well represented in the family business, exporting their wines all around the world. Marlborough Sun also comes in Chardonnay, Pinot Gris and Pinot Noir, each with their own 'cheeky paper editions'. For the label design and back ground, see; http://www.thecreativemethod.com/project/marlborough-sun/ Obtained in the UK. Screwtop.



Review Date:
05 . 08 . 2015