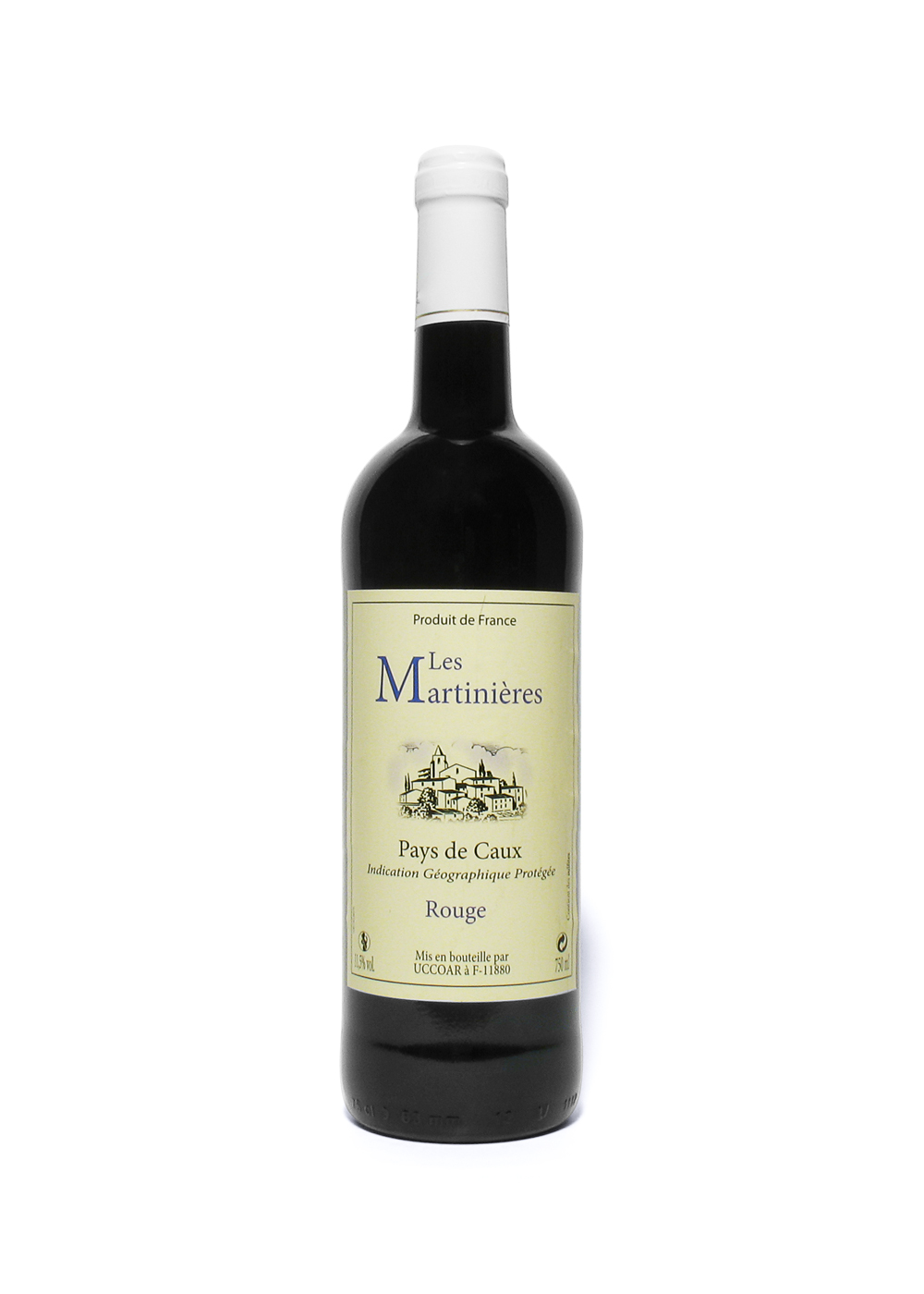 Les Martinières
Carignan, Syrah
Small Languedoc commune of Caux with its own IGP, Pays de Caux
France, Les Martinières, Pays de Caux, IGP, NV

Introduction
Just north from the town of Pézenas is the small village of Caux, the home to this wine, in the department Hérault, again part of Languedoc. Produced by Groupe Uccoar S.A., a wine trading company since 1976, based in Carcassonne, which is a union of cooperatives in the south-western parts of Languedoc-Roussillon province. 85% of their wines are for the French market, such as private labels and the rest goes to the union's customers in 27 countries, in Europe, Asia and America.

Groupe Uccoar represents over 1500 grape growers and winemakers in more than 40 communes, with over 10.000 ha. of vineyards. Together they make 120 million litres of wine. Some years ago their French market share was 3-4%; by volume they are among the top 5 wine producing and trading unions in France and in sales among the top 10. As of 2013 Groupe UCCOAR S.A. operates as a subsidiary of Groupe Val d'Orbieu, then renamed in 2015 to Vinadeis, a company with worldwide connections.

Review Date:
25 . 07 . 2018
Origin:
France, Languedoc-Roussillon, Pays de Caux
Wine specifics
Ready to drink. Fruity, balanced, smooth, light bodied. Serving red meats, pasta, cheese, on its own. Obtained in France, may not be available in the UK. Drawing is of the village of Caux on the hill, with the Saint-Gervais church in the middle. Cork. The label suggests serving it quite cold.
Insights:
The Caux region's reds tend to be blends, making it from Carignan and sometimes selectively supported by Syrah, Grenache, Mourvèdre and Merlot. Caux forms part of the wine region of Pézenas, which is surrounded by other wine regions, such as Faugères, Picpoul de Pinet and Cabrières. The Languedoc wines are often blends and trials in this field continue with success. Groupe UCCOAR S.A. – Union des Caves Coopératives de L'Ouest Audois et du Razès. In 2016 the Vinadeis offices were 'attacked' by Comité Régional d'Action Viticole, a group of militant French wine producers, who have claimed numerous (violent) attacks over the years. Over production and wanting quality over quantity is one of their gripes and they are mostly active in the Languedoc-Roussillon region.
Review Date:
25 . 07 . 2018