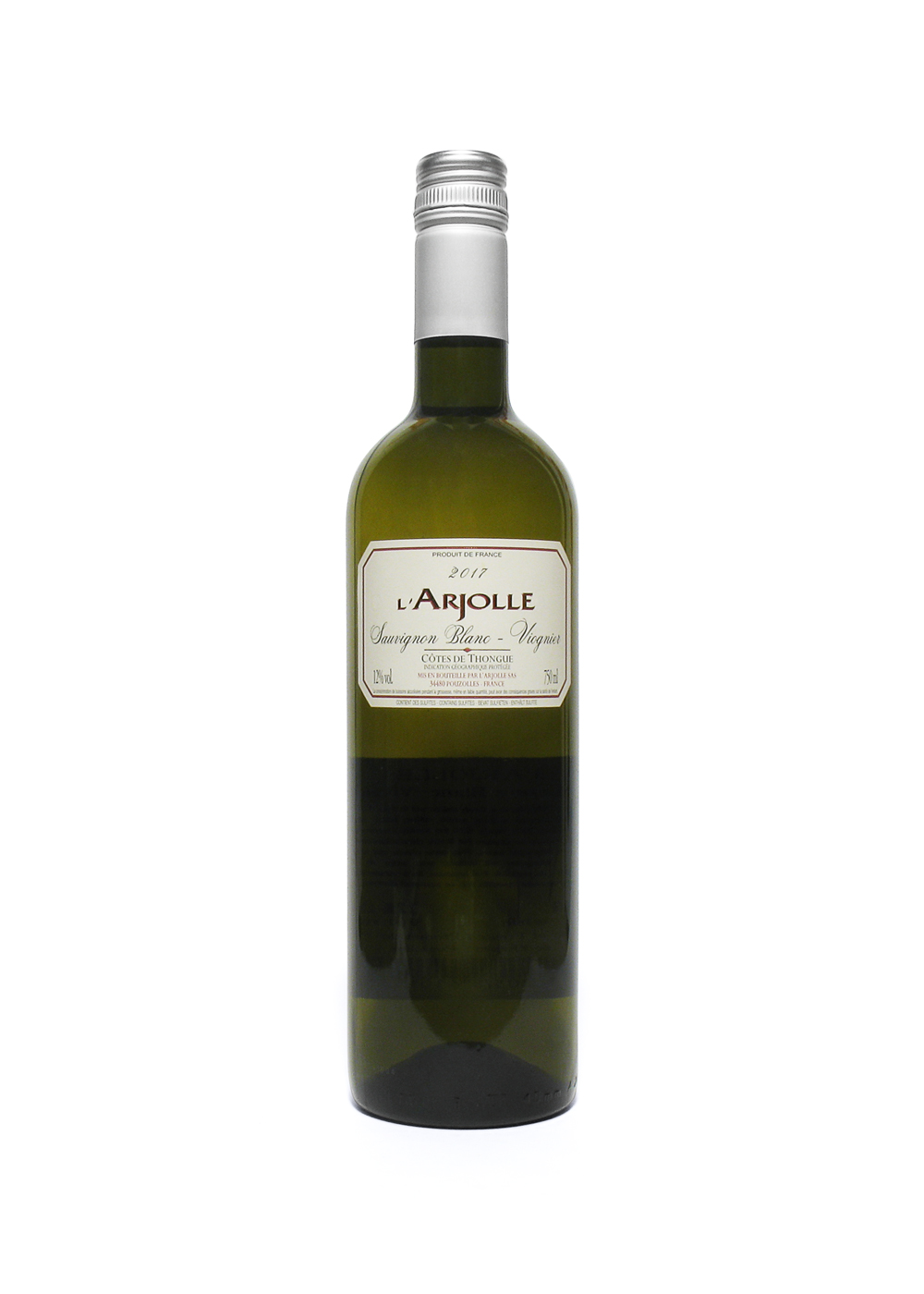 L'Arjolle
Sauvignon Blanc, Viognier
Fresh fruity blended white from southern France, Côtes de Thongue, IGP
France, Languedoc-Roussillon, Côtes de Thongue, L'Arjolle, Domaine de L'Arjolle, Viognier-Sauvignon Blanc, IGP, 2019

Introduction
Domaine de L'Arjolle is in the small Côtes de Thongue appellation, in the middle of Languedoc-Roussillon, ca. 25 km north east from the town of Béziers, in the village of Pouzolles. Since 1974 the family-owned winery has 'come to live' under the brothers Prosper and Louis-Marie Teisserenc, with replanting and renewing the vineyards, already owned by the family for many years. They also manage nearby Château de Margon.

1978 Was their first vintage and the family business, with younger generations joining since, has grown from strength to strength. They now have 60 ha. accredited under the strict Terra Vitis for their sustainable operation. They have tried over the years to experiment with various grapes, such as Zinfandel (successfully released and the only one in France), as well as barrel ageing, resulting in ageing ca. 40% of their 20 Domaine wines. Their wine production of white and red is (unusually) fifty-fifty.

Review Date:
27 . 01 . 2021
Origin:
France, Languedoc-Roussillon, Côtes de Thongue
Wine specifics
Ready to drink and can still keep for a while. Balanced, dry, fresh, soft-easy, fruity, hints of ginger, herbs, spice. Serving starters, salads, chicken, fish, risotto. Grapes, Sauvignon Blanc, Viognier. Made from vines over 25 years old. Obtained in the UK. Cork.
Insights:
The small IGP is named after the river La Thongue, with vines on the slopes of the valley and with favourable growing conditions under its Mediterranean climate, it has been a good region for wine growing. Covers 23 communes; 4 cooperative wineries and 48 independent ones, like this one. IGP – Indication Géographique Protégée, EU 'name' since 2009, formerly Vins de Pays (and the zone name, in this case Côtes de Thongue). IGP qualification can give good to very good wines and work well for well established and/or upcoming regions.
Terra Vitis, 'Plaisir du Vin, Terre Vivante'. A national federation of associations of winegrowers from several French regions, trying to achieve an integrated form of production, balancing (sustainable) between organic and traditional agriculture.

PS.
For your own wine tasting, see: https://thedutchman.org/files/2019/05/Dutchman-Wine-Tasting-2019.pdf

- weekly wine

- 'Hosting in Cumbria Your Wine Tastings' -

Review Date:
27 . 01 . 2021