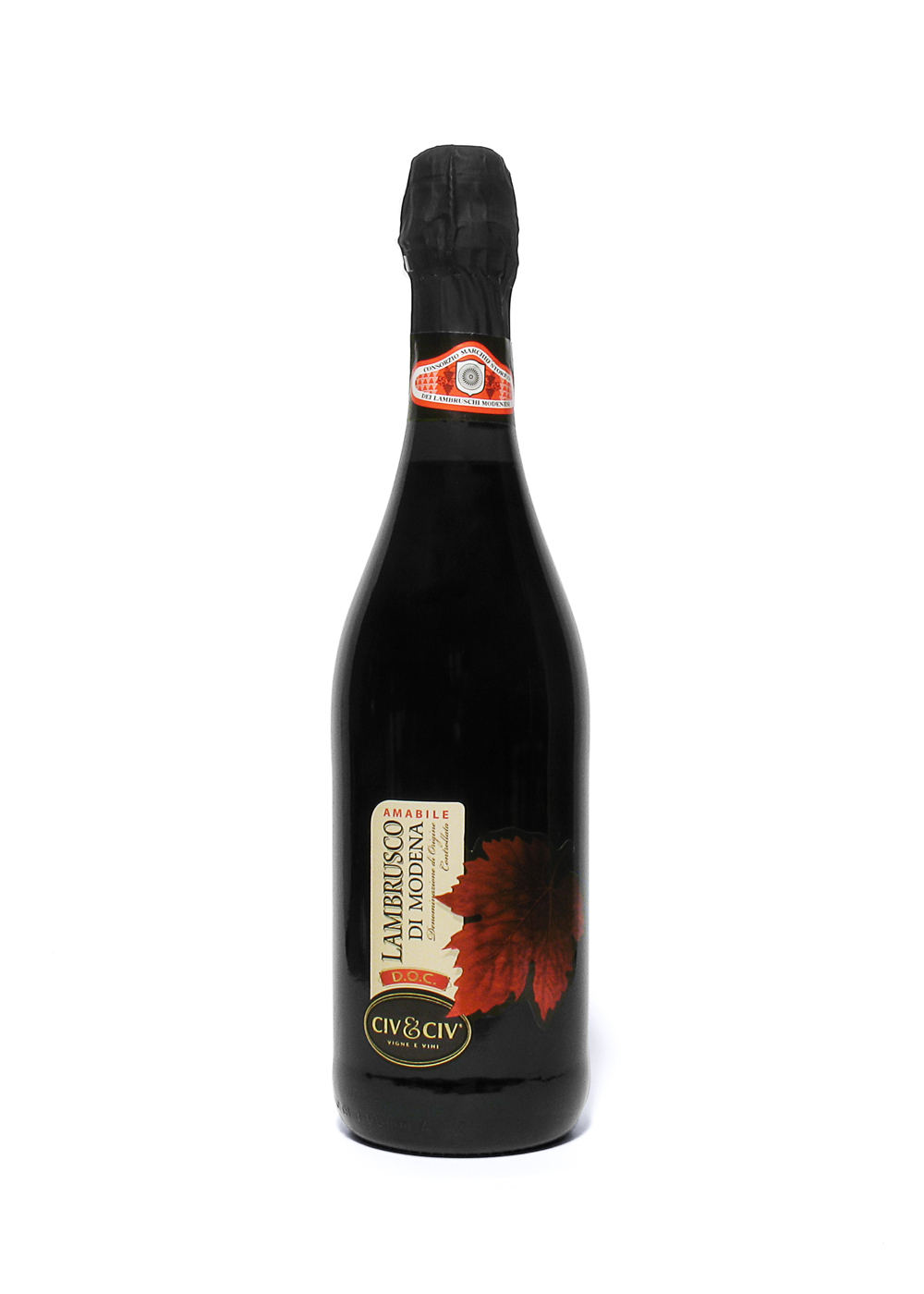 Lambrusco
Lambrusco Salamino, Lambrusco Grasparossa, Lambrusco Marani, Lambrusco Maestri
Vino frizzante amabile, rosso; sparkling wine, medium sweet, red; Lambrusco di Modena
Italy, Lambrusco di Modena, Vino Frizzante Amabile, DOC, NV

Introduction
It is the name of a wine and the name of the grape. The producer is CIV & CIV, a cooperative with 4 wineries, in the Emilia-Romagna region and founded in 1961 in Castelfranco Emilia, just east from the town of Modena, northern Italy. The Lambrusco DOC covers 8 named regions, spread over Emilia-Romagna and Lombardia, mostly widely situated around the town of Modena.

The current cooperative has around 2000 members. The sparkling wine is made from a variety of Lambrusco grapes, of which there are around 60 varieties and for the DOC it can be made from 13 varieties. The wine has been around for several centuries and is still considered Italy's most popular wine and is among the most exported ones around the world. The most produced is semi-sparkling, with fully sparkling on the increase, whilst the production of still is minimal. The Lambrusco Salamino grape is the most planted.




Review Date:
11 . 10 . 2017
Origin:
Italy, Lambrusco di Modena
Wine specifics
Ready to drink. Refreshing, sparkling, fruity, sweet, 'a delicate mousse'. Served spicy dishes, dishes with sauces, white meats, dessert, on its own - apéritif. Obtained in the Netherlands, may be available in the UK. Cork.
Insights:
Most of the Lambrusco wines are made in bulk, with their secondary fermentation in large pressurized steel tanks, known as the Charmat or tank method, which is also used for the production of Prosecco. 'Di Modena' is only a fairly recent DOC, since 2009. CIV & CIV now falls under Riunite (a cooperative since 1950, from 9 wine makers), making Riunite & CIV since 2008 and is Italy's second wine company. Amabile – medium sweet/off dry; literally it means 'lovely'. Driest to sweetest terms are: secco, amabile, dolce. The alcohol % can vary among the Lambrusco's.
Review Date:
11 . 10 . 2017