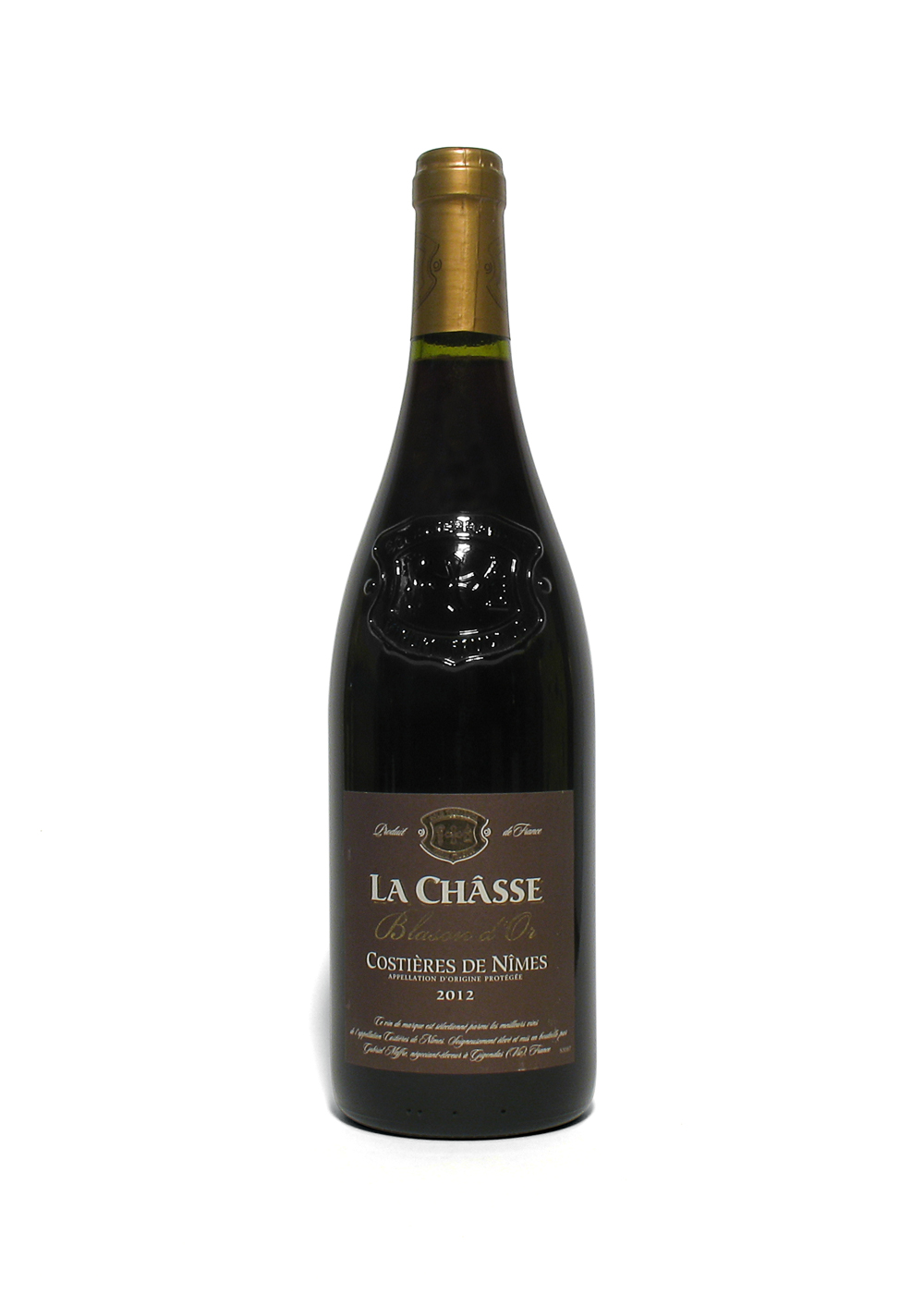 La Châsse
Syrah, Grenache, Cinsault, Carignan
Interesting southern French wine region, Costières de Nîmes
France, Rhône, Costières de Nîmes, La Châsse, Blason d'Or, 2012, AOP

Introduction
La Châsse was launched in the early 1990's by Maison Gabriel Meffre, who are based in Gigondas and originally a Rhône valley wine producer. Initially with AOC Cote du Rhône, from 2004 other varietals were introduced from the Vin de Pays d'Oc, resulting in a large range of whites, reds and sparkling.

The molded crest of the La Châsse bottle holds the words of 'Solis Terraeque Vinum Fructus', meaning literally 'Wine, Fruit of Sun and Earth'. Gabriel Meffre goes back to 1936, as a 'négociant-vinificateur', covering e.g. Gigondas, Vacqueras and Plan de Dieu. Under the CEO Bertrand Bonnet major steps were made, going into new markets, making strong brands and modernising the facilities, as well as expanding into the Oc region.

Review Date:
13 . 04 . 2015
Origin:
France, Rhône, Costières de Nîmes
Wine specifics
Ready to drinks and can keep for a while. Blend of Syrah, Grenache,Cinsault and Carignan vines. Smooth, balanced, rich aroma, fruity, hints of spices. Serving all types of meats, lamb, mature cheeses, game, pasta. Obtained in the UK. Cork. Embossed bottle.
Insights:
The AOC applies to the area around the historic town of Nîmes towards the Rhône delta, is since 2004 considered part of the Rhône wine region, as it was before Languedoc. Its latest AOC name goes back to 1989, as it was formerly known as Costières du Gard, VDQS, becoming an AOC in 1986. There are 24 communes in this wine area. White wine is around 4% of the total AOC production, with a small production of Rosé as a by-product from the red wine production. http://www.lachassewines.com/our-wines.html


Review Date:
13 . 04 . 2015