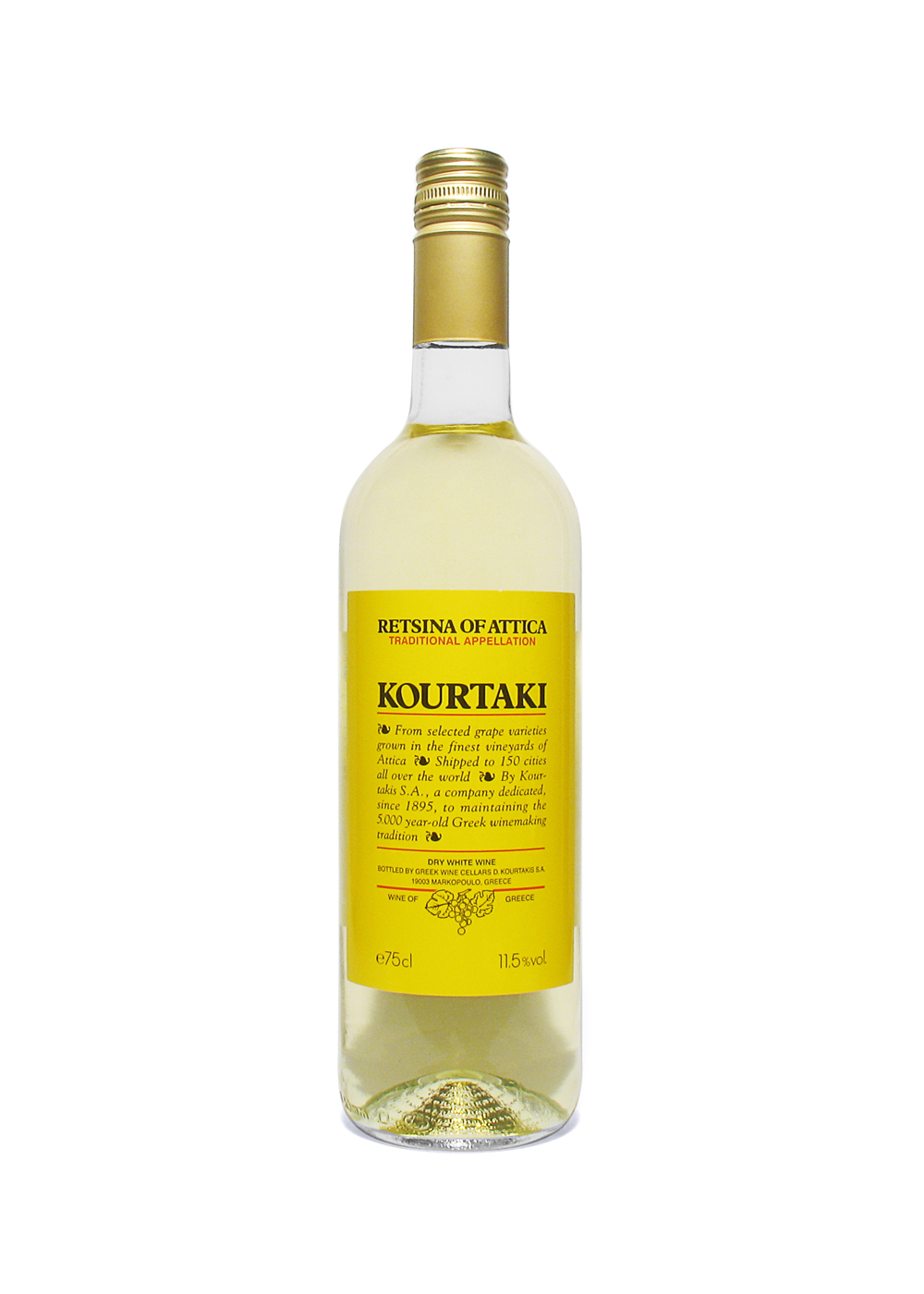 Retsina, dry white wine from central Greece, the Attica region
Greece, Attica, Kourtaki, Retsina, Traditional Appellation, NV

Introduction
The wine has its origin in ancient Greece, going back allegedly 5000 years and is flavoured with the resin of the Aleppo pine (resinated wine) and Retsina Kourtaki is the brand leader of this particular wine, Savatiano being the grape. Kourtaki Wines is the company behind this, dating back to 1895 and is based in Attica near Athens, in Markopoulo, nowadays called Greek Wine Cellars.

The adding of the flavouring happens at the beginning of the process, once pressed, before fermentation. Now in its third generation, the Kourtakis family plays a major role in wine production in Greece, also representing now other Greek wine types. The first bottling took place in the early 60's, stopping selling wine in bulk, eventually bottling Retsina at one time at 60M a year and GWC has at present five wineries.

Review Date:
17 . 08 . 2016
Origin:
Greece, Attica
Wine specifics
Ready to drink, keep for upto one year. Fresh, aromatic pine on the nose, crisp. Serving white meat, fish, Greek dishes. Obtained in the UK. Well known yellow label, basic, just describing some facts. Each bottled is numbered. Screwtop.
Insights:
Originally, selling wine in bulk, the wine was usually kept and sold in amphorae, using Aleppo pine resin to seal it. It flavoured the wine and eventually became a part of the wine making process. Resinated wines are mainly found in Greece. The name Retsina is a form of AOC, a traditional appellation for Greece and parts of southern regions of Cyprus. Retsina is a Greek word for resinated white (or rosé) wine. Retsina is mainly made from the Savatiano grape, sometimes blended in with Assyrtiko and Rhoditis; in some cases with other varieties and it can have regional changes.
Review Date:
17 . 08 . 2016