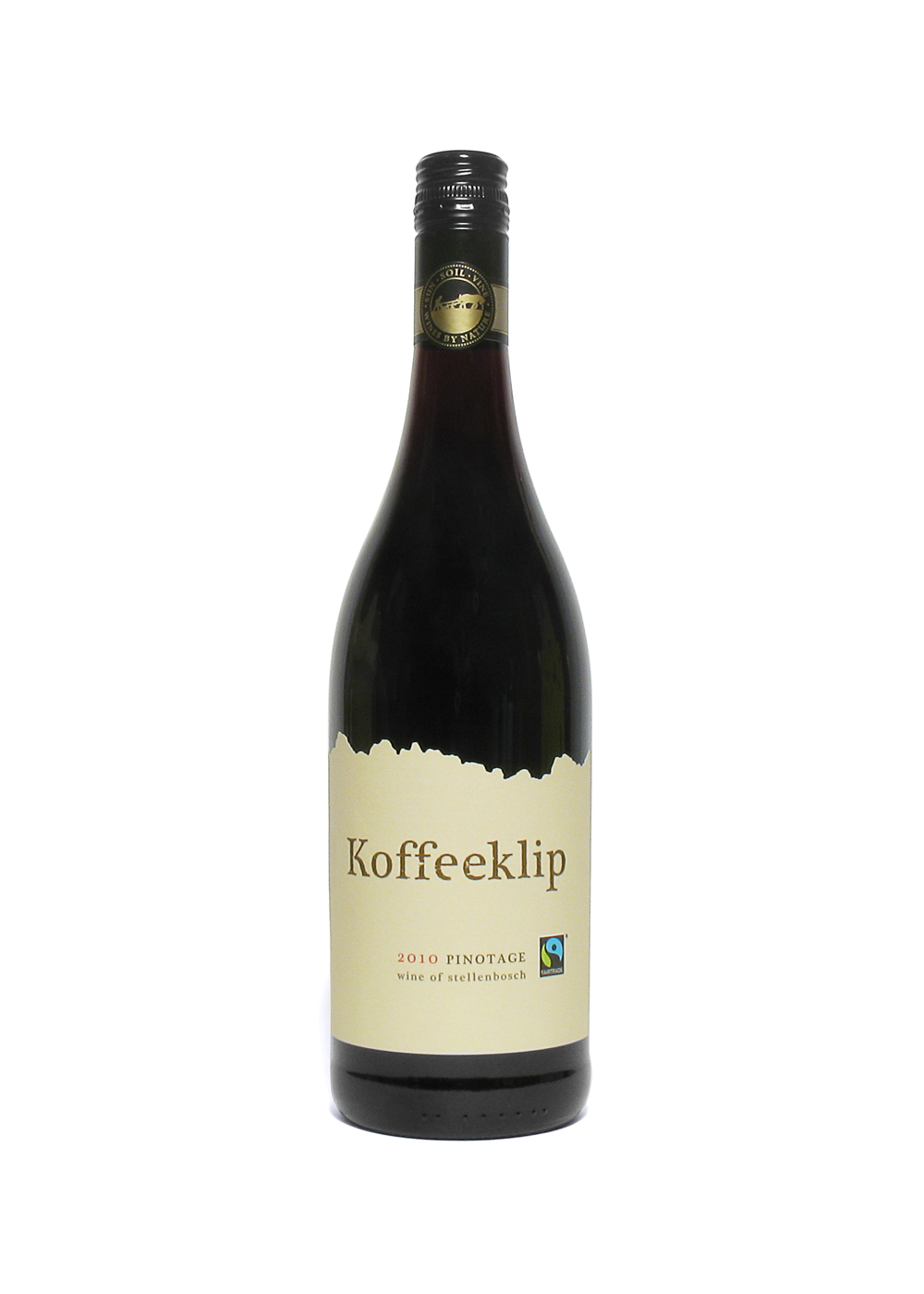 A Fairtrade wine and this Pinotage is harvested from Koffeeklip soil, nr. Stellenbosch, made by Stephan Smit from Koopmanskloof Wingerde, based in Koelenhof.
Koffeeklip, Pinotage, by Koopmanskloof Wines, Wine of Origin Stellenbosch, Fairtrade, 2010

Introduction
The area is called Bottelary Hills, with a wine history going back to 1777. Koopmanskloof is in the hands of the Smit family since 1895. Pinotage, a crossing between Cinsaut and Pinot Noir, is typical for South Africa, as is Zinfandel for California and Malbec for Argentina.

Situated east from Cape Town, it is surrounded by many wine makers, such as Simonsig, Warwick and Kanonkop. Koopmanskloof, other than pure wine making, focuses as well on other issues, such as their social responsibility initiatives, including complying to the Fairtrade South Africa principles, as well as their crèche, educating and accommodating the children of the farm workers whilst at work. The scewtop reads: sun . soil . vine . wines by nature.

Review Date:
15 . 04 . 2015
Origin:
South Africa, Stellenbosch
Wine specifics
Ready to drink. Elegant, fruity and hints of chocolate, mocha and vanilla aromas, oak aging. Serving, going well with all types of red meats and grills. Attractive, simple and unusual label. Wine by Koopmanskloof Wines, Wine of Origin Stellenbosch.
Insights:
Koopmanskloof grows a variety of wines, red and white, based on grape varieties; Carignan, Chenin Blanc, Chardonnay, Merlot, Sauvignon Blanc, to mention a few. In 1973 the South African government introduced an elaborate system of controls, Wines of Origin, comparable to EU regulations, splitting it up in regions, districts and wards. A ward is a further breakdown, based mostly on unique, terroir, characteristics. Koopmans is Dutch for trader, kloof is a ravine and klip is rock/crag.


Review Date:
15 . 04 . 2015