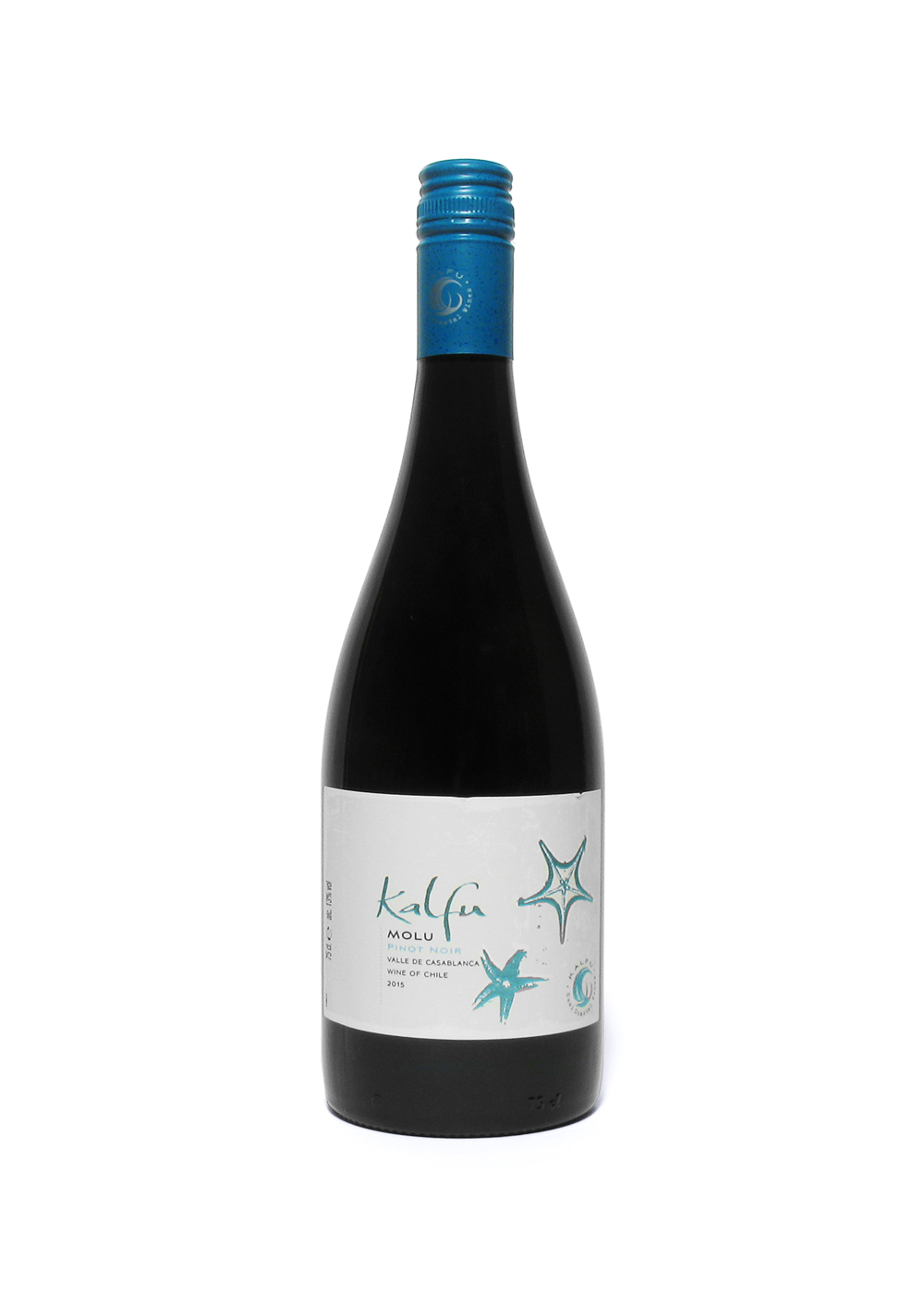 Chilean merlot from a producer on the up.
Chile, Valle de Casablanca, Kalfu, Molu, Pinot Noir, 2015

Introduction
Kalfu is one of the brands from the fairly new Viña Ventisquero, which started in 1998, with its first wines in 2000. The winery owns various vineyards, in coastal Maipo, Casablanca (DO, where this Kalfu is from), Colchagua, Leyda and Huasco. Owned by Gonzalo Vial and its chief wine maker is Felipe Tosso. The brands are Ramirana, Ventisquero, Root 1 ('The original ungrafted'), Yali and Kalfu.

Kalfu means blue in Mapudungun, the language of the aboriginal Mapuche people in the region, making references to the free blue sky and the blue ocean. The Kalfu brand, 'cool coastal wines', is from the Casablanca wine region, just a few kilometres from the coast line and just 75 kilometres west of Santiago. Within Kalfu there are 3 ranges, under the names of Molu (this one), Kuda and Sumpai, covering a selection of white and reds. Molu comes in merlot, sauvignon blanc and chardonnay.

Review Date:
06 . 06 . 2018
Origin:
Chile, Valle de Casablanca
Wine specifics
Ready to drink and can keep for a while. Fruity, fresh, balanced, light-bodied, hints of spice, vanilla. Serving red meats, grills, pasta, bbq, cheese. Obtained in the Netherlands, may be available in the UK. Screwtop. 15% of the wine is aged in French oak for 8 months. On the back label. ''Molu means west or the place where the sun sets. At night, as they look to the west, the natives would see the stars reach the horizon and fall into the ocean, where they were magically transformed into starfish.'' (which are represented on the front label)
Insights:
The Casablanca wine region started around the mid-1980's and the main varieties are sauvignon blanc, chardonnay and pinot noir. Being so near to the coast the growing conditions differ from the more traditional sites, which tend to be warmer, but still, being successful as a wine area, it sparked other wine regions to develop, such as neighbouring Leyda. Due to its lower temperatures the growing season is around a month longer than most of the central valley and a sudden frost can be an issue at the beginning and/or even at the end of the season. Kuda – seahorse; Sumpai - mermaid
Review Date:
06 . 06 . 2018