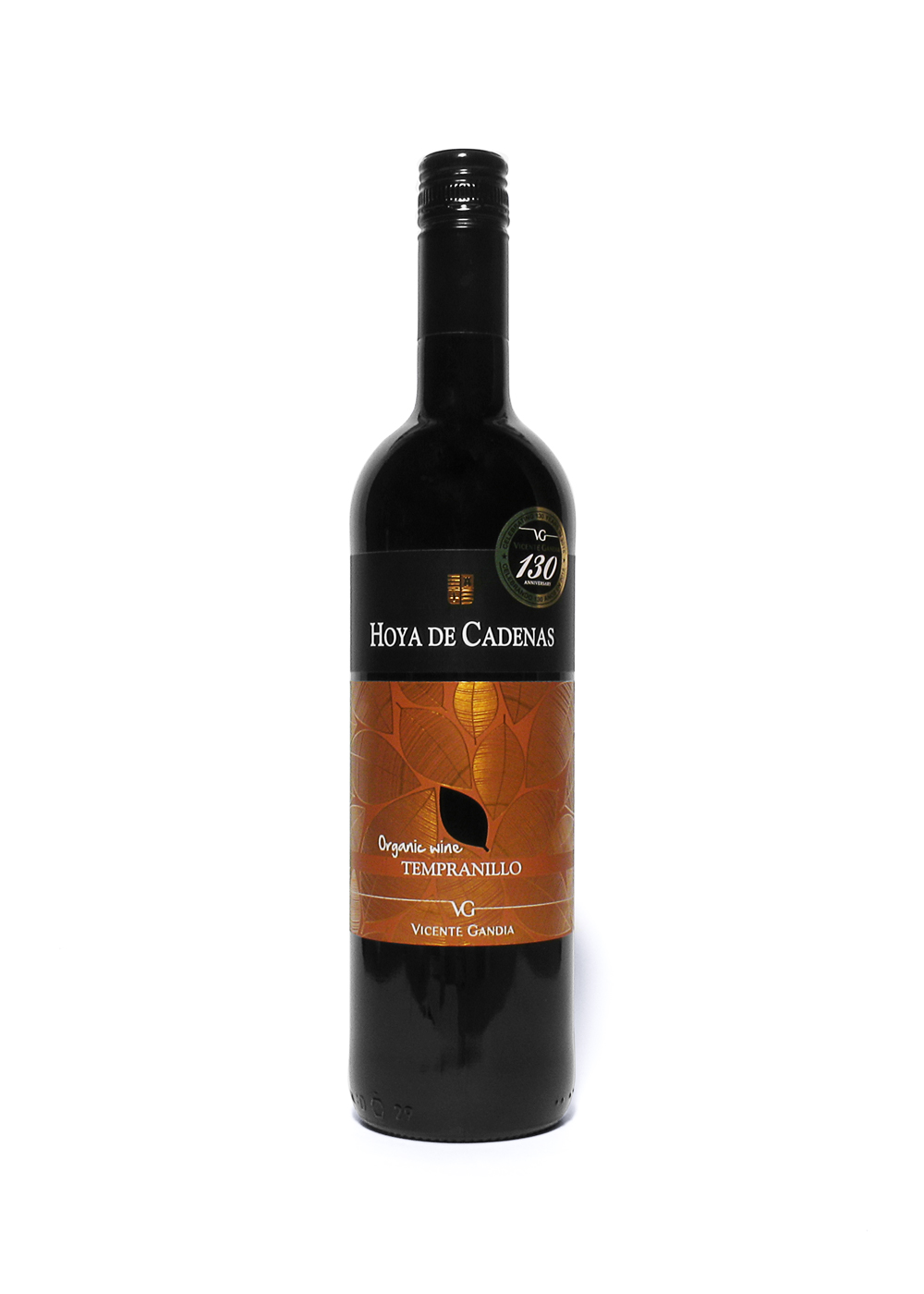 Hoya de Cadenas
Tempranillo
Organic Tempranillo, Spain, 'Agricultura Ecologica Comunitat Valenciana'
Valencia, Hoya de Cadenas, Vicente Gandia, Organic wine Tempranillo, 2014

Introduction
Now with its 4th generation of the Gandia family, the winery has been around since 1885, producing and trading. Their estate of Hoya de Cadenas, in Valencia's province Utiel Requina wine region, holds over 300 hectares of vineyards, with a variety of vines, native and international. The estate's whole operation uses environmentally friendly techniques to prevent soil erosion and exhaustion. 90 Miles west of the town of Valencia, in Chiva, is their main office.

Vicente Gandia is the name of the company and the largest in Valencia. Since 2001 the estate itself has its own extensive underground cellar on site, with 15000 oak casks, each 225 litres. The casks are made of American oak, from Missouri or French oak, from the forests of the department Allier, central France. The company represents 9 DO's, such as nearby Utiel Requina, Valencia and Alicante and further afield Rueda and Rioja.

Review Date:
31 . 01 . 2018
Origin:
Spain, Valencia
Wine specifics
Ready to drink, can keep for a while. Fairly light, young wine, fresh, fruity, hints of liquorice. Serving tapas, light meals, grills, mild cheeses, on its own. Obtained in the Netherlands, may not be available in the UK. Screwtop. The EU organic certification is visualised on the bottle's back label with the 'Euro leaf', symbolising the EU stars/nations (like the stars on the European flag) and Nature. For processed products it means that 95% of the agricultural ingredients are organic, as stated in the EU regulations.
Insights:
This wine is an IGP Valencia, as well as a 'Joven', which means it is very young and has undergone very little, if any, wood aging. The companies' award winning wine selection is extensive. The estate has a museum section, 'Art in Barrels'. Renowned artists from the region express their art on authentic barrels. This contributes further to its tourism wine complex, the first in Spain that integrates an exhibition hall in its winery. To explain its history in short: http://www.vicentegandia.es/en/nosotros/
Review Date:
31 . 01 . 2018