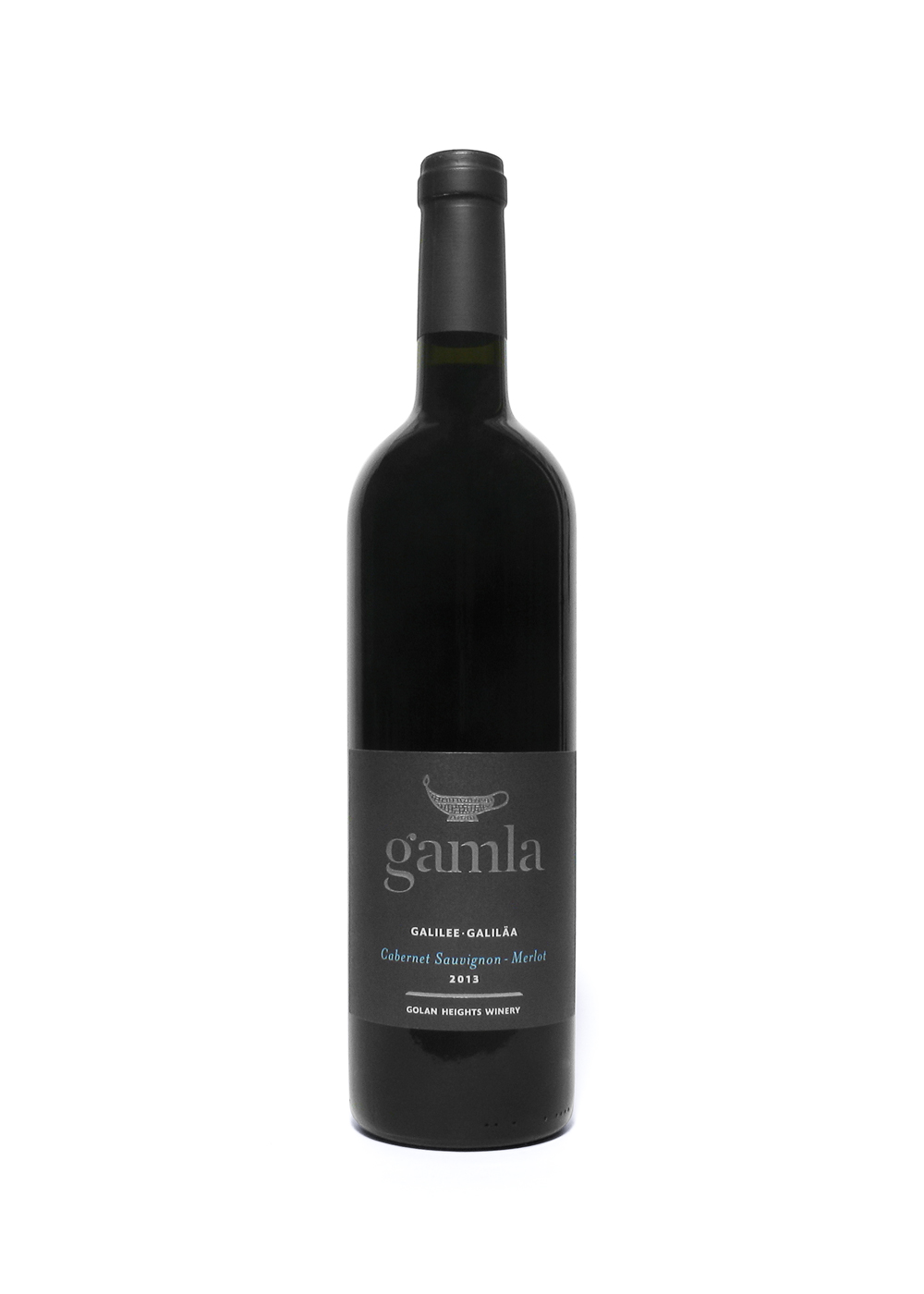 Gamla
Cabernet Sauvignon, Merlot
Flavoursome blended kosher red from Israel's Galilee wine region.
Israel, Galilee, Gamla, Golan Heights Winery, Cabernet Sauvignon-Merlot, Wine of Israel, 2013

Introduction
It's from the Golan Heights Winery, with 630 ha., based in the village of Qatsrin, ca. 150 north from Jerusalem. The Galilee wine region is in the most North-Eastern part of Israel, split up in the sub-regions of Lower-, Upper-Galilee (bordering on Lebanon) and the Golan Heights (bordering on Syria). This wine is a 50-50 blend of Cabernet Sauvignon and Merlot, aged for 12 month in small French and American oak barrels and made by head wine-maker Victor J. Schoenfeld.

The winery was established in 1983 by four kibboutzim and four moshavin (both are types of cooperative communities). It is now being seen as a highly respected and one of the main producers of wine in Israel. They produce four ranges, Gamla, Yarden, Hermon and Golan. The wine growing conditions in this region are being considered as very good and its wines increase in popularity, and not just in Israel.

Review Date:
25 . 07 . 2019
Origin:
Israel, Galilee
Wine specifics
Ready to drink and can still keep for a while. It is recommended to age for at least 5 years from vintage. Balanced, fruity, hints of chocolate, flowers, orange peel, 'oak'. Serving with roasts, grills, red meats, pasta, cheeses. The back label states 'Kosher Lamehadrin', being the most stringiest level of kosher supervision with no leniency. It is also 'Kosher for Passover', the annual spring celebration, where certain foods may not be permitted to consume. The wine is signed off by Rabbi Avraham D. Oyerbach in Tiberias, a fairly nearby town on the eastern side of the Sea of Galilee. Obtained in the Netherlands, may be available in the UK, though limited. Cork.
Insights:
In Israel the main grapes (for more commercial reasons) are cabernet sauvignon, merlot, chardonnay, sauvignon blanc, with shiraz and cabernet franc on the increase. The winery grows in total 20 varieties over 28 vineyards (in Upper-Galilee and Golan Heights), which each one split-up again in 'blocks'. The harvests are initially kept in separate stainless steel tanks and then blended to achieve the wineries' four ranges. They produce in good and 'characterful' years single-vineyard wines. The Golan heights became part of Israeli soil after the 1967 six-day war, with Israeli civil administration implemented since 1981 for 2/3 of the area and starting the creation of Israeli settlements. The other 1/3 is overseen by (some) authorities with Syrian connections. The two areas are split by the UNDOF line and it is still a (international) controversial set-up.
Review Date:
25 . 07 . 2019