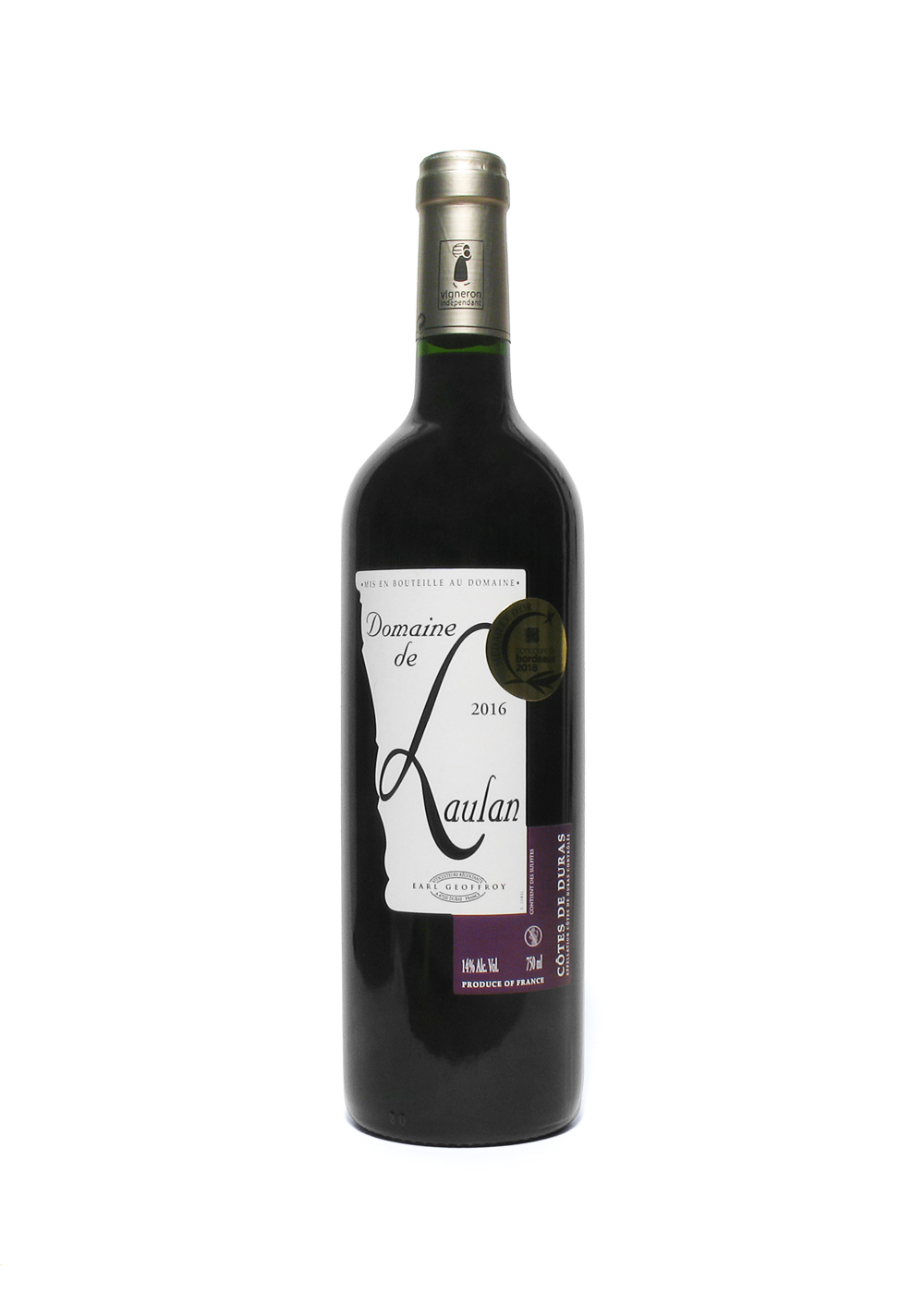 Domaine de Laulan
Merlot, Cabernet Sauvignon, Cabernet Franc, Malbec
Vigneron Indépendant, Côtes de Duras and a lovely red
France, Côtes de Duras, Domaine de Laulan, AOC, 2016

Introduction
With Bordeaux as your immediate neighbour (Entre Deux Mers) and growing many of the same grapes, there are quite a few comparisons. It is just a little further away from the ocean and ca. 75 km east from the town of Bordeaux. A (small) AOC since 1937, named after the wine commune of Duras and part of the department of Lot-et-Garonne. There are 80+ private vineyards and a few cooperatives.

The Geoffroy family acquired in 1974 the estate on the hills nr. Duras; now run by Régis and Angélique, born on the estate and they took the business over from their parents. Nowadays a modern winery with 35 ha., E.A.R.L. Geoffroy makes a variety of award-winning wines, blended reds, white, sparkling and rosé. Either under their own label or otherwise, such as (French) major supermarket chains.

Review Date:
10 . 07 . 2019
Origin:
France, Côtes de Duras,
Wine specifics
Ready to drink and can keep as well for quite a while. Balanced, fruity, smooth. Serving white meats, roasts, soft cheese. Grapes: Merlot, Cabernet Sauvignon, Cabernet Franc, Malbec (Côt).on the neck of the bottle the logo of Vigneron Indépendant. Obtained in France, may not be available in the UK; Côtes de Duras will be limited if at all. Cork.
Insights:
For their various wines they use stainless steel vats, barrel cellars and air-conditioned bottle storage for aging. Traditions of wine making are well mixed in with modern techniques and facilities. E.A.R.L. means a private limited liability agricultural company (Exploitation Agricole à Responsibilité Limitée), requiring two partners, farming or not. Vigneron Indépendant de France is a viticultural trade association based in Paris that promotes and assists small and independent winemakers in France, founded in 1978. Members can put the logo on the bottles. There are 6000+ members.
Review Date:
10 . 07 . 2019