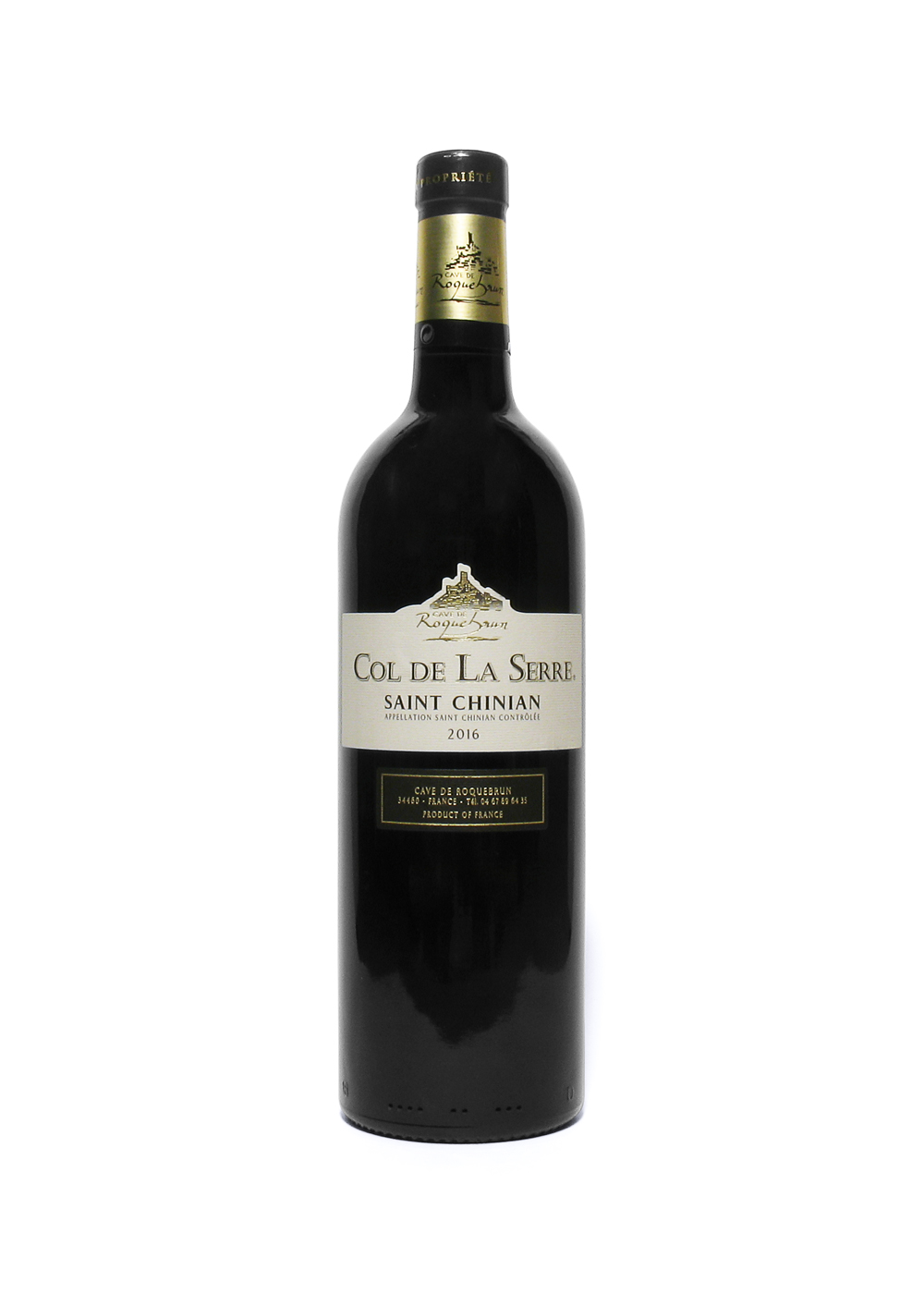 Col de la Serre
Mourvèdre, Grenache, Syrah
Saint-Chinian AOC, Languedoc-Roussillon region, mature and distinctive
France, Saint-Chinian, Col de la Serre, AOC, Cave de Roquebrun, 2016

Introduction
Cave de Roquebrun is the coop winery in the commune of Roquebrun, 30 kilometres north-west of the town of Béziers. The wine region is named after the small town of Saint-Chinian. The Cave was established in 1967, with its well situated vineyards in the valley of the river Orb, also a popular area for tourism (including Roquebrun itself). It is neighbouring to the Faugères wine region just to the west and Minervois to the east.

The winery produces St.-Chinian AOC and the since 2004 recognised (communal) sub-appellation of Saint-Chinian-Roquebrun. The Carignan grape is a main player in this last one. For some of their (better) wines they make use of their 900 barriques, made of French oak. This wine is aged in one of the many modern and temperature controlled, stainless steel tanks, maintaining the freshness and characteristics of the region.

Review Date:
16 . 01 . 2019
Origin:
France, Saint-Chinian
Wine specifics
Ready to drink and can keep still for a little while. Label suggests 3-4 years. Balanced, fresh, fruity, medium-bodied, hints of cherries. Serving all meats, grill and roasts, pasta, mature cheeses. Obtained in France, Saint-Chinian may be available in the UK. Grapes: 60% Mourvèdre, 20% Grenache, 20% Syrah. The label shows a little drawing of Roquebrun. Cork.
Insights:
The ageing at the winery varies between each batch and can be from 8 – 24 months. The coop bottles all in-house, with plenty of additional bottle storage (where they mature some of the wines a little longer before shipment). Other grape varieties from the cave are: Carignan, Roussanne, Viognier and Grenache Blanche. In addition to the reds, they have selection of whites, rosé's, an eau-de-vie and a regional liqueur called Cartagène. There is also second sub-appellation from the nearby village of Berlou, Saint-Chinian-Berlou.
Review Date:
16 . 01 . 2019