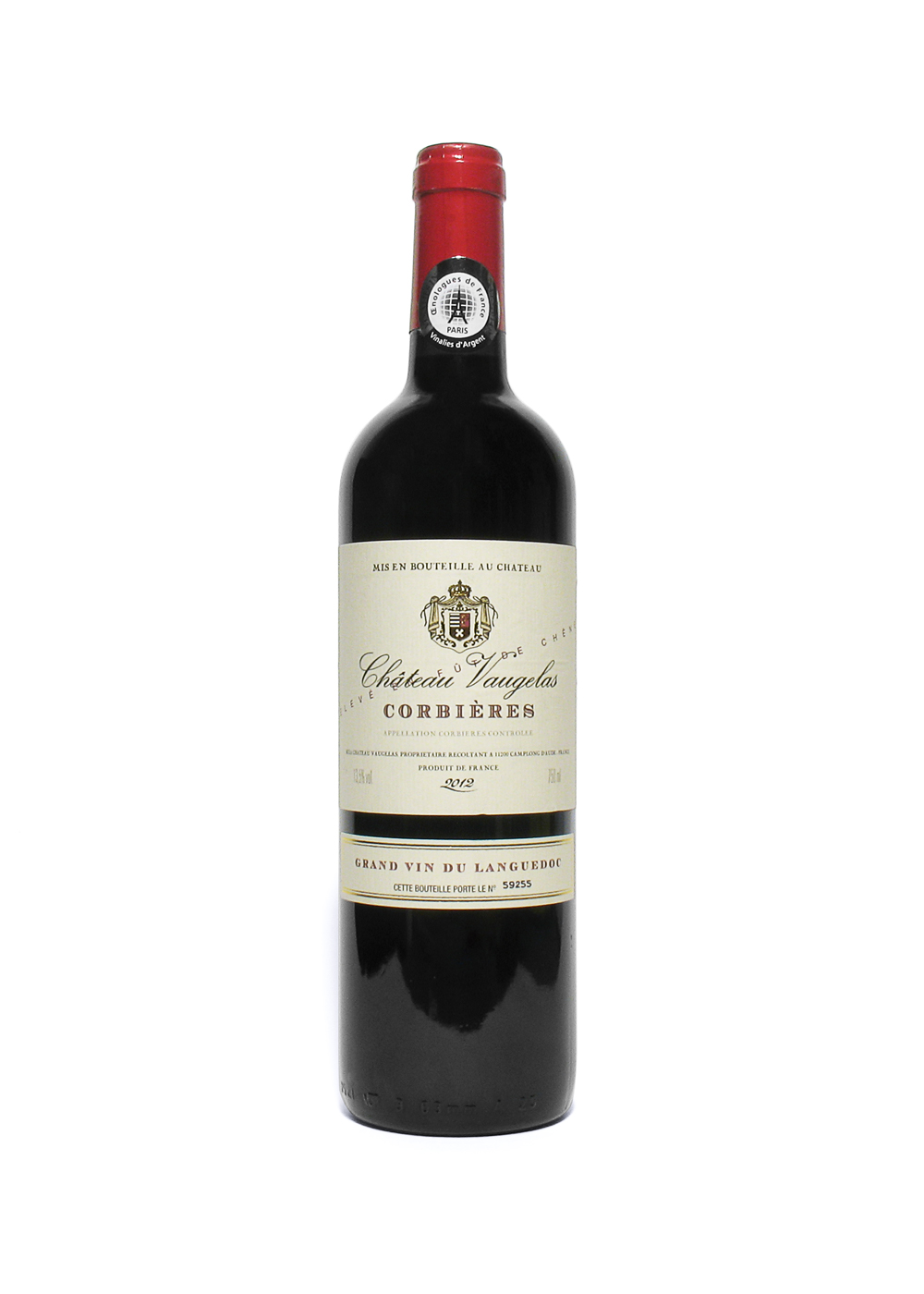 Château Vaugelas
Carignan
From the Western Languedoc, the Corbières region, a wine area on the move!
France, Languedoc, Corbières, Château Vaugelas, AC, Grand Vin de Languedoc, 2012

Introduction
Going back to the 16th century, vines were grown originally by Benedictine monks and supplying this wine to the nearby Abbey of Lagrasse. The wine is from one single plot and since 2000 the château is owned by the (Vignobles) Bonfils family. Corbières is the largest AOC in the Languedoc-Roussillon region, dominated by red and Carignan being the main grape variety.

In the second half of the 20th century the family (re)started small in France and since then acquired upto 19 properties in the Languedoc-Roussillon region and a further 3 in Bordeaux, with the various tasks spread out over the family members. The vineyard planted more recently vines in the Goblet style, meaning free standing and sometimes only supported by canes (not wires), a traditional pruning method for Corbières and only suited for low vigor vines.

Review Date:
27 . 05 . 2015
Origin:
France, Languedoc, Corbières
Wine specifics
Ready to drink and can still keep for a while, according to the label, upto 6 years. Smooth, purple coloured wine, aromas of berries, violets, liquorice. Serving red meats, game, grills, strong cheeses. Maturation 9-12 months in oak barrels ('élevé en fût de chêne', which is written across the label) and it is a numbered bottle, under the heading of Grand Vin du Languedoc. The plot grows Syrah, Carignan, Grenache and Mourvèdre. Obtained in France. Corbières in general may be available in UK, Cork.
Insights:
The château has a barrel hall containing more than 400 barrels (a third of which are renewed each year), lined cement vats and also two very original conical wooden vats of 80 hectolitres each, which allow for precise 'cap punching'. 'Cap' stands for the solid mass of grape skins, stems and pips that float to the top of the vessel during fermentation. 'Punching down the cap' means that you push the mass back into the wine, keeping it moist, to enhance eventually the overall wine quality, as well as enhancing the fermentation process by bringing oxygen into the wine, stimulating the yeast, one of the positive effects of 'punching down the cap'.



Review Date:
27 . 05 . 2015