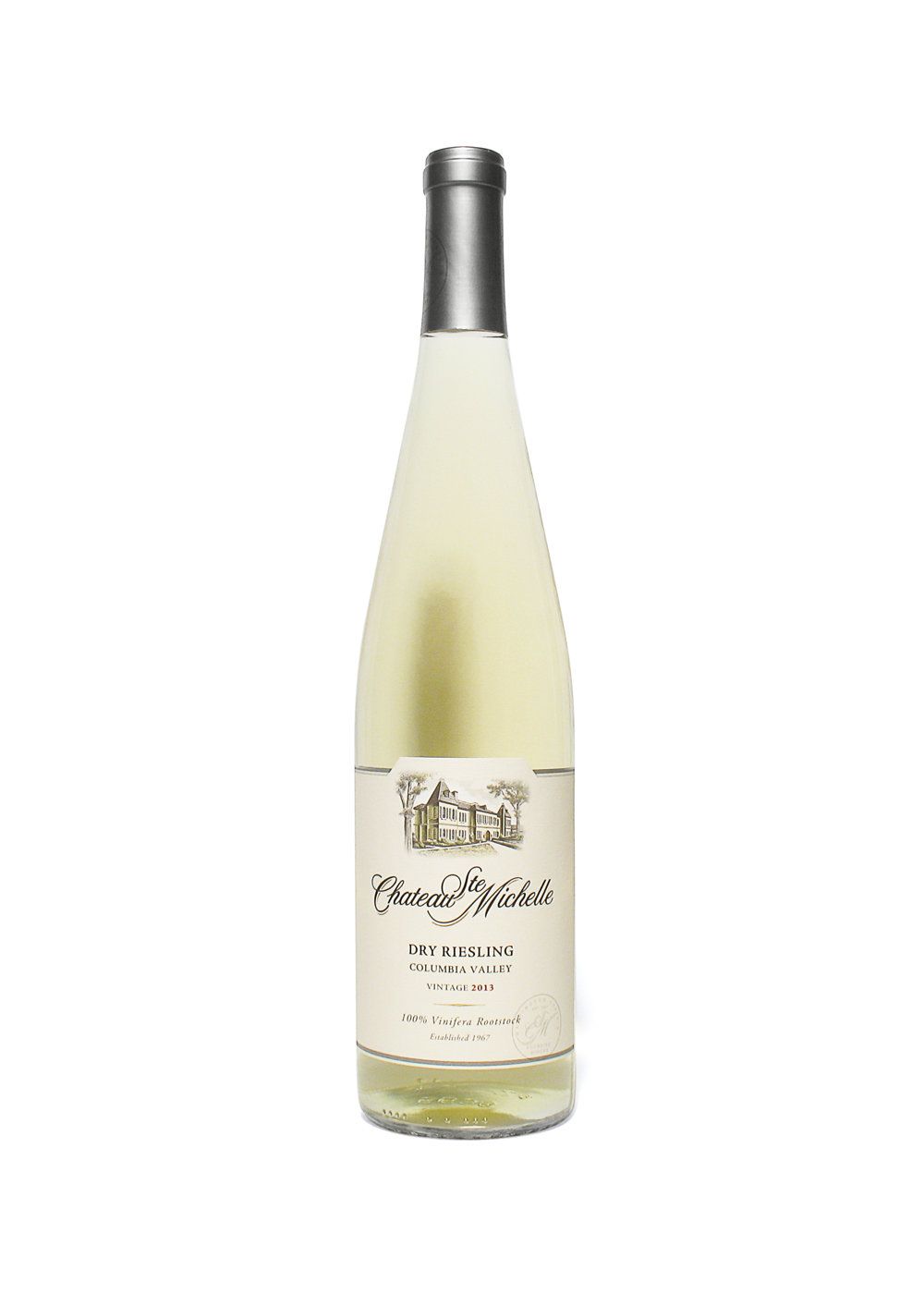 Chateau Ste Michelle
Riesling
Riesling from Washington State's oldest winery, USA
USA, Washington, Columbia Valley, Chateau Ste Michelle, Dry Riesling, AVA, 2013

Introduction
Based near Seattle, in Woodinville, on the estate of a former lumber baron. Around 1935 two companies were founded to produce fruit wines, merging eventually into American Wine Growers. They started to plant their first vinifera grapes, Grenache, in 1951 in the Columbia Valley. More valleys and varieties followed and in 1967 they started with the more upmarket name of Ste Michelle and acquired the current estate around 1972.

The market received the wines well and in 1976 Chateau Ste Michelle was opened, a purpose built modern wine making facility, in the style of a French chateau, with a drawing of it coming back in its labelling. The annual Riesling production is 2M cases a year, being the world leading producer of Riesling. Columbia Valley is an AVA since 1984, now with 80 wineries, all pioneered by Chateau Ste Michelle.

Review Date:
26 . 10 . 2016
Origin:
USA, Washington, Columbia Valley
Wine specifics
Ready to drink and can keep for a little while. Crisp, dry, hints of peach, elegant finish. Serving white meats, starter or dessert, on its own al fresco. Obtained in the UK, online. Cork. The label states: 100% Vinifera Rootstock.
Insights:
Washington is the second most important wine-growing region in the USA. Irrigation is key for the wine production, centered around the various large rivers in East Washington. The winery includes 1. Canoe Ridge Estate; 2. Horse Heaven Vineyard; both near the town of Paterson, within Horse Heaven Hills AVA, 300 kilometers southeast from Seattle; 3. Cold Creek Vineyard, just north from the town of Sunnyside, 50 kilometers north from Paterson. The estate is currently owned by the Altria Group, formerly known as Philip Morris. Machine harvesting of the Riesling grape takes place under the cool night skies.
Review Date:
26 . 10 . 2016