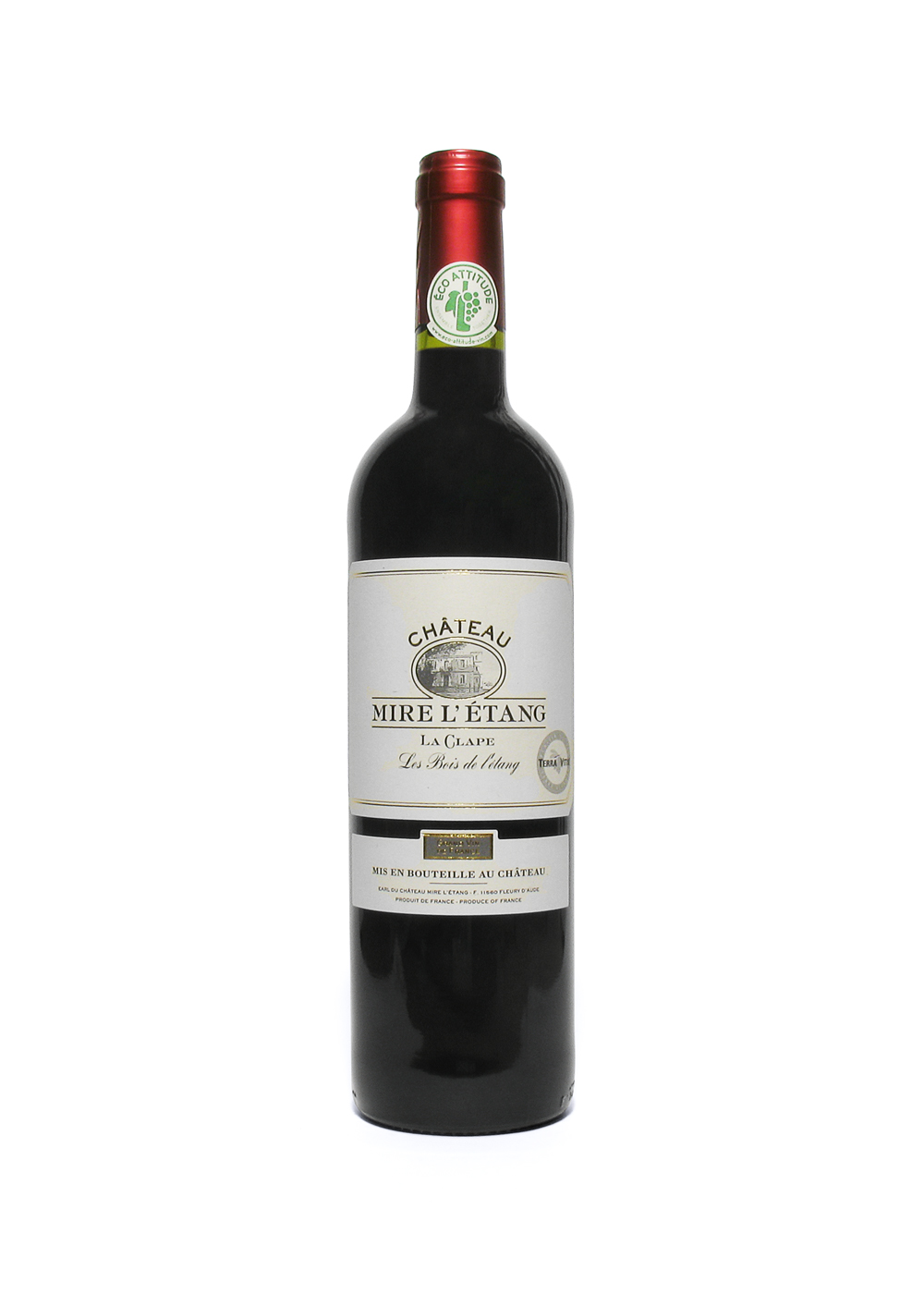 Château Mire L'Étang
Syrah, Grenache, Mourvèdre
Red blend from Languedoc's sub region La Clape, southern France, and its own style.
France, Languedoc-Roussillon, Languedoc, La Clape, AOP, Château Mire L'Étang, Les Bois de L'étang, Réserve, Grand Vin de France, Terra Vitis, 2016

Introduction
The Chamayrac family has owned this vineyard/winery Château Mire L'Étang since 1972, nowadays 50 ha, with 42 ha of AOC wines. Became self sufficient over the years and joined the Terra Vitis charter in 2003, whilst award winning over the years. The Château is close to the Mediterranean coast and ca. 15 km east from the city of Narbonne, postal under the village of Fleury.

La Clape has its own AOC since 2015, for white and red. Before it was a named subzone under the Languedoc AOP. La Clape wine gets its character from the 'Massif de la Clape' limestone and with this vineyard on the south-eastern hillside of the 'Massif'. Red grapes are typically Syrah, Grenache and Mourvèdre. It is part of the Languedoc-Roussillon wine region, the biggest wine producing region in the world and 1/3 of France's wine production. Over the years it has become a region to follow.

Review Date:
16 . 12 . 2020
Origin:
France, Languedoc-Roussillon, Languedoc, La Clape
Wine specifics
Ready to drink and can still keep for a while. Balanced, mature, fruity, smooth, hints of 'garrigues'. Serving all meats, grills, roasts, pasta dishes, rice dishes, cheese. The labelling also states: 'Terra Vitis', 'Éco Attitude' (and sticker on the neck of the bottle), as well its membership to 'Vigneron Independant'. Drawing of the Château on the front label. Obtained in the Netherlands. Cork.
Insights:
A white La Clape is often linked to the Bourboulenc grape, but can be made with (an)other(s). Terra Vitis, 'Plaisir du Vin, Terre Vivante'. A national federation of associations of winegrowers from several French regions, trying to achieve an integrated form of production, balancing (sustainable) between organic and traditional agriculture. Garrigues – low-growing vegetation in general on the coastal hills, fragrant plants, growing wild, such as juniper, thyme, rosemary and lavender. WWW.eco-attitude-vin.com; Ensemble-Together. AOC = AOP, Appellation D'Origine Contrôlée / Protégée.
ECO-packaging (also mentioned on the back label): Glass 100% recyclable, cork from protected forests, label made of recyclable paper, case made of recyclable paper

PS.
For your own wine tasting, see: https://thedutchman.org/files/2019/05/Dutchman-Wine-Tasting-2019.pdf

- weekly wine

- 'Hosting in Cumbria Your Wine Tastings' -

Please share and follow
PS.
For your own wine tasting, see: https://thedutchman.org/files/2019/05/Dutchman-Wine-Tasting-2019.pdf


Review Date:
16 . 12 . 2020