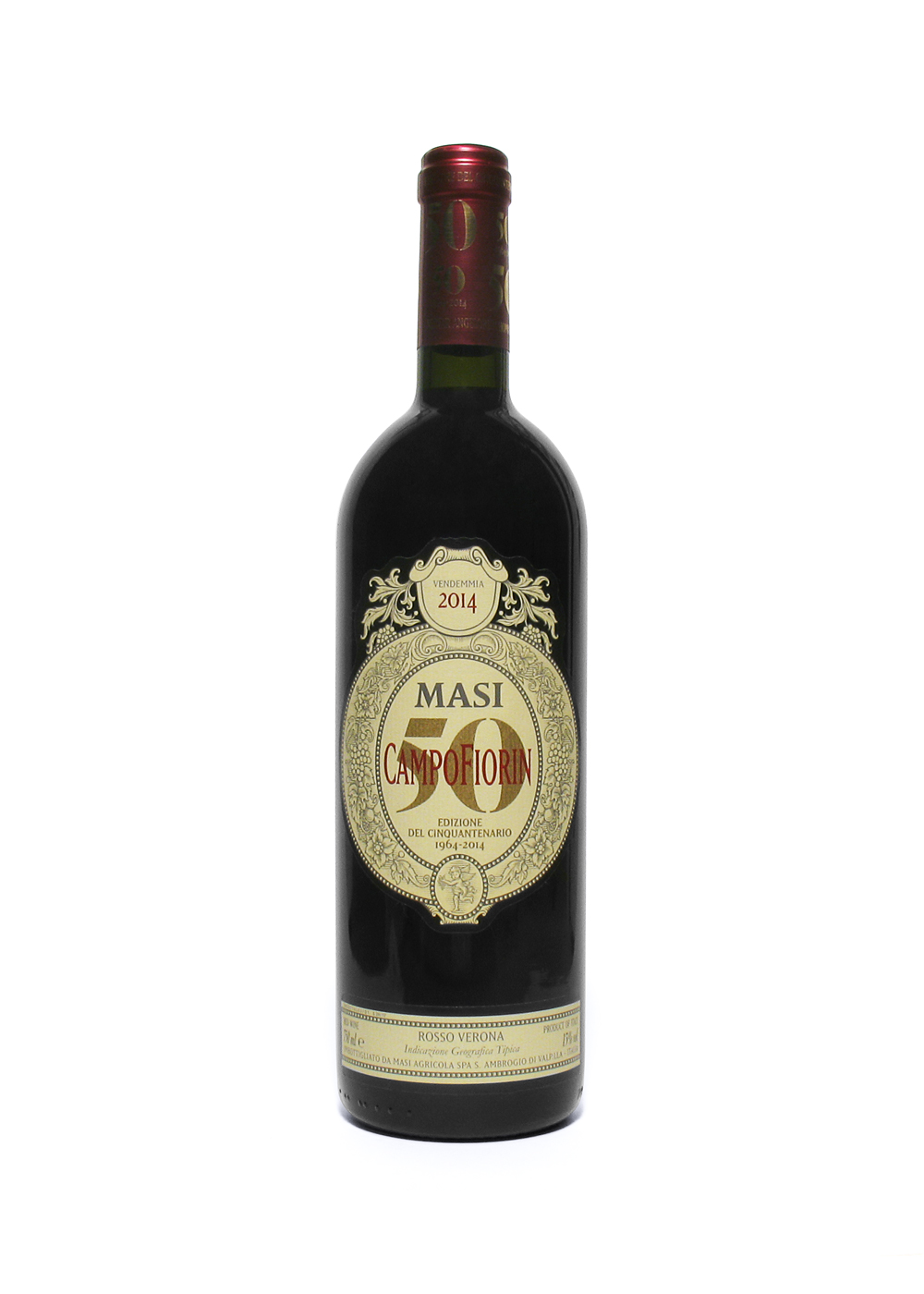 CampoFiorin
Corvina, Rondinella, Molinara
Appassimento fine red from Veronese grapes by Masi, a celebration version
Italy, Veneto, CampoFiorin, Masi, Rosso Verona, 50, IGT, 2014

Introduction
2014 Vintage (this one) was a celebration year, having started this wine in 1964, a Rosso Verona, enhanced by using lightly semi-dried grapes (appassimento) during the wine (re-fermenting) process. The winery is Masi, based in Sant'Ambrogio di Valpolicella in the Verona region, which stretches from Verona to Lake Garda and Masi is also a leader in the making of Amarone, a DOCG.

The Masi story dates back to 1772 when de Boscaini family bought a vineyard 'Vaio dei Masi' and the family owned is now in its 6th and 7th generation ever since. Sandro Boscaini is the current company president. Veneto based, Masi has also an organic run vineyard in Tuscany and a vineyard in Argentina, Masi Tupungato. Masi made this IGT wine Campofiorin, with the making of Amarone wine in mind, which is traditionally made in the appassimento style.

Review Date:
14 . 05 . 2020
Origin:
Italy,Veneto
Wine specifics
Ready to drink and can keep still for a while (according to their website 15-20 years). Balanced, mature, smooth, full-bodied, fruity, hints of plums, sweet spices, vanilla. Serving pastas, all meats, roasts, grills, mature/blue cheeses. Grapes:70% Corvina, 25% Rondinella, 5% Molinara and appassimento; for appassimento they use the same varieties, 70% fresh and 30% dried. Label states; 'Edizione del Cinquantenario 1964-2014'.Obtained in the UK. Cork.
Insights:
There is a range within the award-winning Campofiorin 'family' and Masi makes a wide range of other wines, exporting to over 120 countries. This wine is qualified as a Masi Green wine, meaning no use of animal by-products in the wine production (therefore vegan friendly), use of solar panels towards their energy use and supporting the project recycling and transformation of the silicone backing for labels into cellulose. The aging of this red wine for 2/3 in large Slovanian oak Botti's (ca. 90hl and re-used, keeping all the characteristics) and 1/3 in new French and Slovanian oak barrels. IGT – Indicazione Geografica Tipica. DOCQ – Denominazione di Origine Controllata et Garantita.

PS.
For your own wine tasting, see: https://thedutchman.org/files/2019/05/Dutchman-Wine-Tasting-2019.pdf

- weekly wine

- 'Hosting in Cumbria Your Wine Tastings' -

Review Date:
14 . 05 . 2020