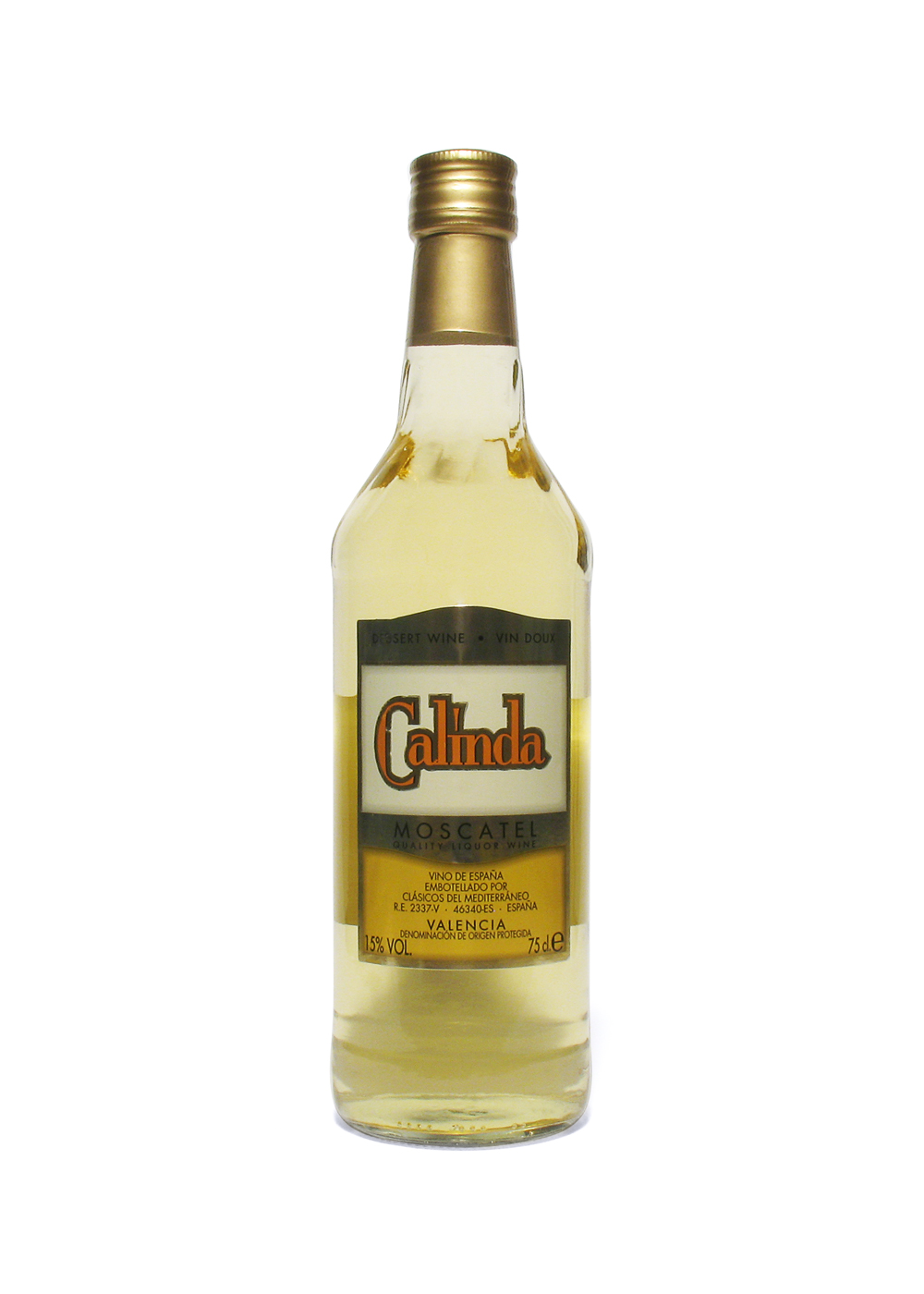 Calinda
Moscatel de Alejandría
Moscatel liquor wine, Spanish dessert wine from the Valencia wine region
Spain, Valencia, Calinda, Moscatel, Valencia DO, Dessert Wine/Vin Doux, NV

Introduction
Calinda is made from the Moscatel de Alejandría grapes from the sub-region vineyards near Valencia, Moscatel de Valencia, on the East coast of Spain. This sweet wine is made for their Clásicos de Mediterráneo range, produced by Bodegas Murviedro in the town of Requena, just west from the town of Valencia. The Moscatel de Alejandría grape is a member of the Muscat family and in Australia Rutherglen is made of this same grape variety.

Bodegas Murviedro was established in 1927 and falls under the well respected and award winning Swiss Schenk Group. Schenk has been around since 1893, founded by Charles Schenk, originally a cooper. It was made into a major player by his son Arnold Schenk and continued to grow during subsequent generations. The estates and wineries are spread over Europe; Spain, Switzerland, France and Italy, supported by a distribution network.

Review Date:
01 . 05 . 2019
Origin:
Spain, Valencia
Wine specifics
Ready to drink and can keep still for a while. Full-bodied, potent, sweet, fresh, hints of citrus. Serving desserts, fruit tarts, cakes, on its own. Obtained in the Netherlands, may not be available in the UK, but other 'Moscatel de Valencia' may be. Screwtop.
Insights:
The Valencia region, as well as other nearby regions east and south from the town of Valencia have historically a reputation of making bulk wine, strong and sweet, whilst demand dropped for this over the years. Lately productions have improved, in areas such as Jumilla, Manchuela, Utiel-Requena and Alicante. Bodegas Murviedro represents quite a few of these regions, all along the East coast of Spain. The Clásicos de Mediterráneo range exports worldwide with an extensive range of 'familiar Spanish wines', through supermarkets, etc.


Review Date:
01 . 05 . 2019