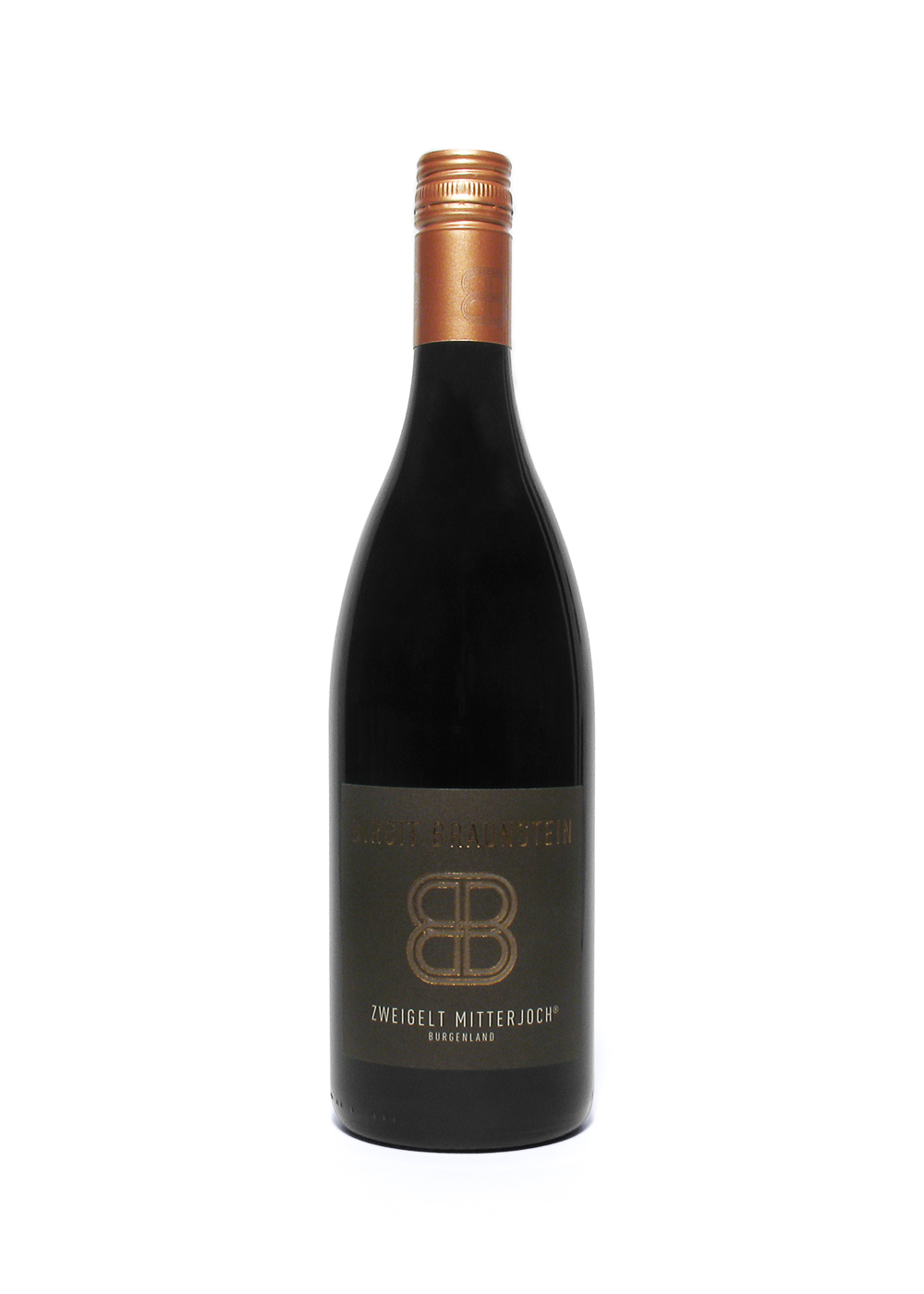 Birgit Braunstein
Zweigelt
Charming and distinctive red from eastern Austria, with the winery's motto 'Live Joy'
Austria, Burgenland, Birgit Braunstein, Zweigelt Mitterjoch®, Trocken, 2015

Introduction
The winery Weingut Birgit Braunstein is based in Purbach near the Neusiedler See, 40 km south-east from the capital Vienna, in the wine region Burgenland. This wine region is around most of this large lake, on the Austrian side, knows a few sub-regions and with the rest of the lake in Hungary. The wine making history of this family estate goes back to 1632 and with wines under her own name since 1996.

The future generation, her two sons, are already stepping in the business. 22 Ha. on the slopes of the Leithaberg form the winery, with 10 grape varieties, in the heart of the Leithaberg DAC. Since 2006 the vineyards are farmed organically and it is since 2009 part of the Demeter association. The labelling states its environmental operation with the 'EU-leaf'. The estate has various vineyards and Mitterjoch is one of them, which is then added on the label.

Review Date:
31 . 10 . 2019
Origin:
Austria, Burgenland
Wine specifics
Ready to drink, recommended within five years. Balanced, smooth, fresh, medium-bodied, dry, hints of spice, vanilla. Serving all meats, salads, light cheeses, on its own. Obtained in the Netherlands, may not be available in the UK. Backlabel states the organic side ('Wein aus biologischer Landwirtschaft'), 'Qualitätswein aus Österreich, trocken (dry), handgelesen (hand-picked), and signed Birgit Braunstein and her motto 'Lebe Freude!' (Live Joy)'. Screwtop, printed on top with the Austrian flag.
Insights:
Zweigelt is the most grown red wine grape variety in Austria (developed in 1922 by Alfred Zweigelt) and with a growing interest in red wines this variety has expanded quite a bit in Austria. This organic wine is matured for 12 months in small oak barrels and small acacia casks. Not many use acacia casks, which is said to add floral characteristics, improved texture and is less 'woody' in taste. The award-winning winery has a range of wines, white, red, rose and a 'Birgit Pur', of which some have been produced with the use of amphora's. DAC means Districtus Austriae Controllatus and the status applies to designated areas in Austria.
Review Date:
31 . 10 . 2019