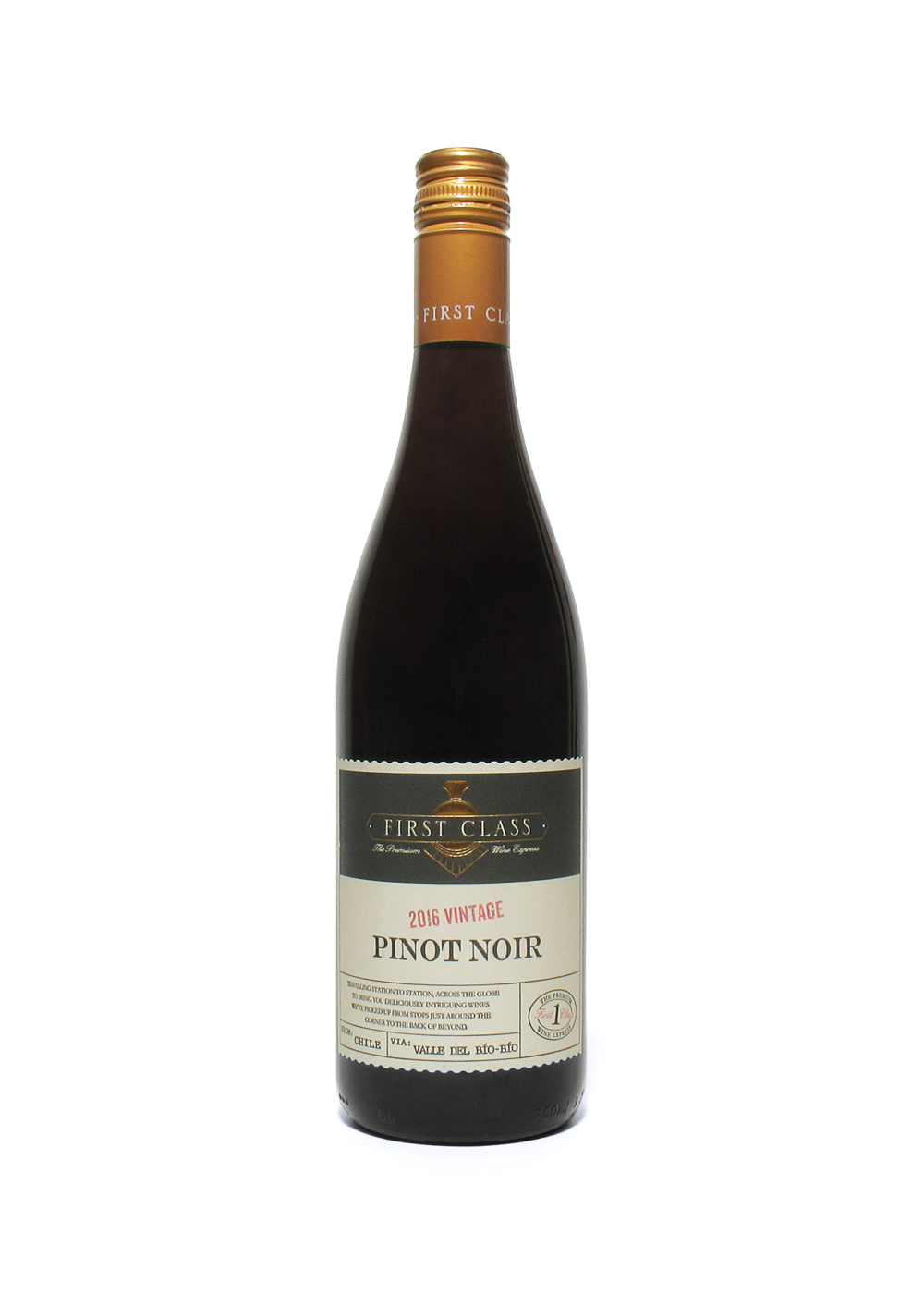 Bío-Bío Pinot Noir
Pinot Noir
Chile's Valle del Bío-Bío refreshing Pinot Noir, served chilled
Chile, Valle del Bío-Bío, First Class, Pinot Noir, 2016

Introduction
The Bío-Bío Valley is ca. 350km south from Santiago and one of its most southern wine regions. Having said that, pioneering efforts are made by wine companies to challenge it even more by going further south, another ca. 500km. This pinot noir is marketed by PLB under the First Class brand, which brings a number of wines to the shelf from around the world.

The Bío-Bío valley wine region forms part of the Sur (south) together with the other sub-regions of Itata and Malleco. This wine area is developing, but does not have the protection of the Andes like the more northern wine regions, it is cooler and wetter. Historically the region is known for its fishing and a variety of industries, such metal works and forestry.

Review Date:
26 . 02 . 2020
Origin:
Chile, Valle del Bío-Bío
Wine specifics
Ready to drink and can still keep for a little while. Recommended to serve a little chilled. Balanced, light, berry fruity, hints of floral, pepper. Serve starters, all meats, fish, salads, cold platters, light cheese, on its own. Label states: First Class 'The Premium Wine Express'. Apparently sourced in Bío-Bío and vinification in nearby Maipo Valley. Obtained in the UK. Screwtop.
Insights:
The wine is handled by PLB, which is linked up to Bibendum and all part of the C&C group, which specialises in producing, marketing and distributing of alcoholics drinks. Cider forms a major part of its international business. Some of their brands are Bulmers, Magners, Tennent's, whilst distributing many more brands from around the world, including wine. Originally started in 1852 as Cantrell & Cochrane Ltd. with its roots in Belfast and now with their head office in Dublin.

PS.
For your own wine tasting, see: https://thedutchman.org/files/2019/05/Dutchman-Wine-Tasting-2019.pdf

- weekly wine

- 'Hosting in Cumbria Your Wine Tastings' -

Review Date:
26 . 02 . 2020