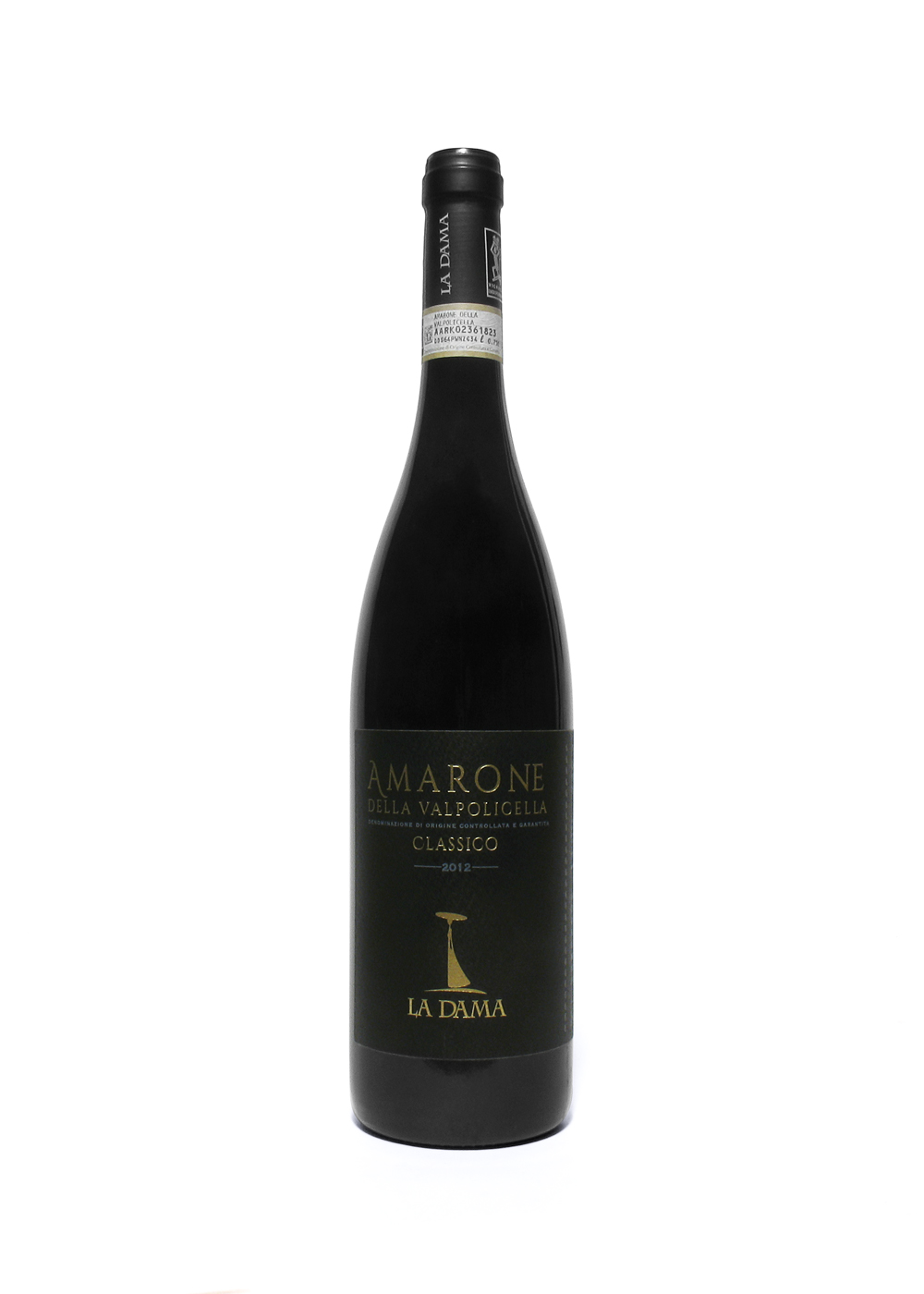 Amarone
Corvina, Corvinone, Rondinella, Molinara
Increasingly popular Italian-Veneto region mighty red with Recioto style in the driving seat

Italy, Valpolicella Classico, Amarone della Valpolicella Classico, La Dama, DOCQ, 2012

Introduction
And this one from La Dama is made by Gabriele and Miriam Dalcanale (and the father-in-law, Giampiero), who have been only involved in winemaking since 2006. But, this young team is producing a great Amarone della Valpolicella DOCQ, just to mention its full name. They make a few interesting and fine wines, but the Amarone is their most precious, a blend made around the Corvina grape. It is considered to be the most potent form of a Valpolicella.

Since 2015 all their workings is BIO certificated and this wine is a DOCQ. Based in Negrar, with another vineyard in nearby Sant'Ambrogio di Valpolicella, totalling 10ha of vineyards within their 16ha estate. All within the renowned Veneto's sub-region of Valpolicella Classico, just North West from the town of Verona. For this wine the ripest grapes are hand-harvested/used around the end of September, then dried in boxes and in January the pressing starts.

Review Date:
24 . 04 . 2019
Origin:
Italy, Veneto, Valpolicella Classico
Wine specifics
Ready to drink and can keep still for around 5-10 years. Fruity, mature, full-bodied, dry, elegant, hints of plum, savoury, spice. Serving roasts, grills, red meats, mature/blue cheeses. Obtained in the UK. Logo is the slender lady with a large sunhat, referring to the name of one of their vineyards. Grapes; Corvina 70%, Corvinone 10%, Rondinella 15%, Molinara 5%. Member of Vignaioli Indipendenti. Amarone Valpolicella Classico DOCQ seal on the neck of the bottle. Cork.
Insights:
In the drying the grapes loose ca. 40% of their weight. Once pressed, fermentation takes 30-40 days, then left for ca. 3 years in French-Italian oak barrels, with at least another year in a bottle before they are sold. Their production is ca. 5000 bottles. So, the way Amarone is produced is a similar process to the recioto way (Recioto della Valpolicella Classico), with the difference mostly in drying (time) and grape (blend). Not to confuse with Ripasso, when the pomace of grapes skins and seeds or some dried grapes are added during the fermentation of a certain wines, enhancing the wine quite nicely. DOCQ – Denominazione di Origine Controllata E Garantita; the highest wine rating in Italy and there are only around 70+. A step down is DOC, followed by IGT (Indicazione di Geografica Tipica) and VdT (Vino da Tavola).
Review Date:
24 . 04 . 2019