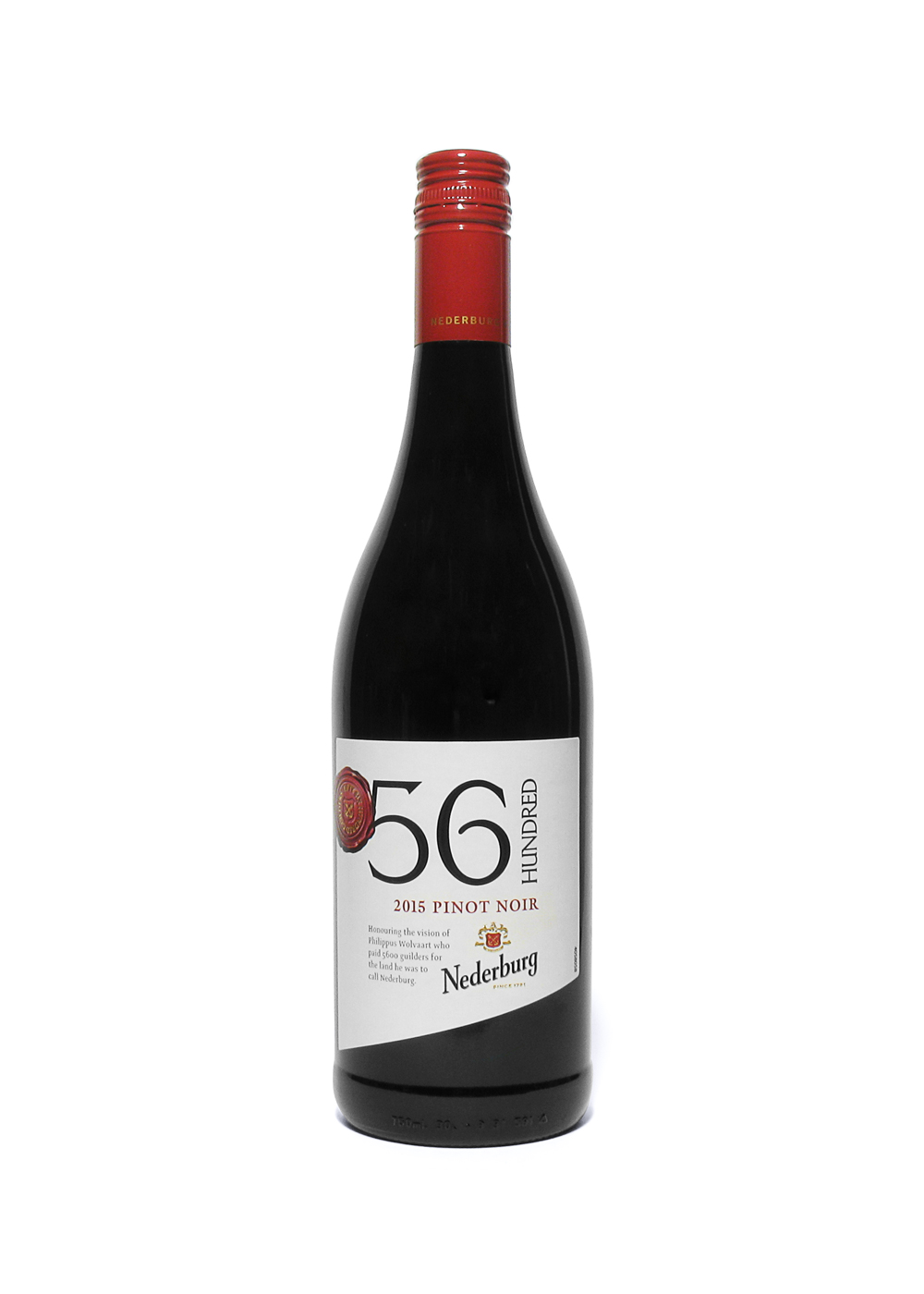 The sum to buy a vineyard, a little while ago; Philippus Wolvaart paid 5600 guilders for the land in Paarl and called it Nederburg
South Africa, Western Cape, Nederburg, 56Hundred, Pinot Noir, W.O., 2015

Introduction
The vision then was to grow wines and this was in 1791. In 1937, after various owners, the land changed hands again. Johann Graue, a german brewer, modernised the vineyard and this was speeded up further from 1956 by the young Gunter Brozel, the cellar master, who soon influenced strongly the future award winning wines; in 2016 alone in total 127 awards. The 56Hundred's range honours the early purchase.

Under the watchful eye of the current cellar master, Andrea Freeborough, the red wines are overseen by the wine maker Samuel Viljoen and the whites by Natasha Boks. Nederburg is a main sponsor of South Africa's first World Tour cycling team, the successful Team Dimension Data, with 26 international professionals. Together with the Qhubeka charity the aim is to get more people on bicycles, through their bicycle donation scheme, increasing mobility within communities, travel faster and transport more.

Review Date:
19 . 04 . 2017
Origin:
South Africa, Western Cape
Wine specifics
Ready to drink and can keep a little while. Light, fruity, hints of strawberry, sweet spice and oak. Serving seafood, white meat, light pizza & pasta and soft cheeses. Obtained in the UK. Screwtop. W.O. seal on the neck, 'integrity & sustainability', by the wine and spirit board. The current label is a redesign since December 2015, now with a prominent Nederburg crest, intending to enhance its premium status, heritage and personality.
Insights:
Nederburg is part of the Distell group, Africa's leading producer and marketer of spirits, wines, ciders and ready-to-drink's. Nederburg produces a wide range of wines. Their historic base is the Manor House, built by Wolvaart and completed in 1800. The thatch-roofed Cape Dutch manor house is these days a national monument. The estate is about 75 kilometres north east of Cape Town, just of the town of Paarl. The harvest is in January and the 56Hundred is aged in oak for 3 months.
Review Date:
19 . 04 . 2017